Overleigh Cemetery
From Chesterwiki
Jump to navigation
Jump to search

Chester's spooky Victorian cemetery at the south end of the Grosvenor Bridge originally had a lake with islands and two chapels; one for nonconformists and another (on higher ground!) for Anglicans. Like many Victorian cemeteries it started off as a private concern. The original Overleigh Cemetery was opened by the Chester General Cemetery Company on 12 November 1850. In fact, the money ran out part-way through landscaping and fresh shareholders had to be found in something of a hurry.
The site was laid out between 1848 and 1850 in Overleigh Road in the south-west Handbridge area of the city, close to the River Dee and the Grosvenor Bridge. Its architect was Thomas Mainwaring Penson (1818-64). The chapels and entrance gate are now listed by English Heritage. Besides two chapels, two lodges and a chaplain's house, the original Victorian cemetery contained an ornamental lake with three small islands (none of these survive).
It is situated in a dark valley and, as the evening draws near, it can be a very spooky place. The gates are locked at dusk. There is an extension to the south.
A List of Interesting Graves and Monuments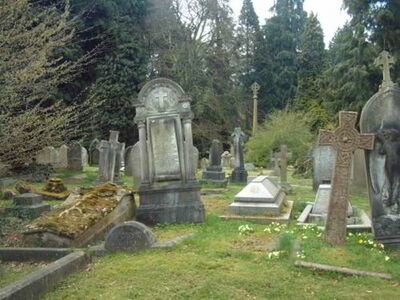 The locations of some of these are shown on the map to the right. Please remember that some of the graves are quite recent and relatives may be visiting, so don't trample over everything else looking for the interesting stuff.
William Ayrton: first in the ground and still here
William Biddulph Cross: "Galvanic therapist" of Crook Street Chester. Made his own coffin from matchboxes (it took him ten years) and fitted a light and various galvanic plates made of zinc to it. Perhaps he believed that this would restore him to life. During the two days the coffin was at the undertakers, Messrs Dutton and Sons in Frodsham Street, the shop was visited by hundreds of curious people.
John Douglas: architect and designer of many characteristic brick buildings around Chester.
Thomas Hughes: storeman, went down on the Lusitania. There is an interesting Lusitania collection at Liverpool Maritime Museum within easy reach of Chester. The Lusitania sailed from New York on 1 May 1915 with 1,962 passengers and crew. On 7 May 1915, at 2.10 pm, she was torpedoed by the German submarine U-20 off Kinsale, Ireland. She sank in under twenty minutes with the loss of 1,201 lives. Another Thomas Hughes connected with Chester was the author of "Tom Brown's Schooldays", and a third was Hughes, the author, in 1856, of "The Stranger's Handbook to Chester".
Mabel Ireland-Blackburn: the "Chewing Gum Girl". Supposedly died aged 3 from chewing gum but actually died of pertussis(whooping cough) and for some reason or other the local story about gum was made up to prevent children from chewing it.
Mary Jonas: Won a free lifetime subscription to Titbits for having given birth to 33 children and "contributing the most people to the British Empire".
Edward Langtry: estranged husband of the better-known Lillie (Langtry/Langtree). She did not begin her stage career until several years later, after her husband became bankrupt. Edward Langtry was incarcerated at the Chester Asylum shortly before his death, having suffered a brain injury during a sea voyage and become deranged. Lillie did not attend his funeral. The report of his inquest can be found in the Courant, 20th October 1897.
Robert Newstead: archaeologist, held the post of curator at the Grosvenor Museum from 1886-1913 and then from 1922-47. Later became Professor Emeritus of Entomology at Liverpool University. He was a scholar of considerable distinction in the field of archaeology and was made a freeman of Chester in 1936.
Richard Price: the carved headstone of this keen salmon fisherman features Grosvenor Bridge and an empty boat.
Henry Raikes (grandfather of the Chester MP, see: 1883 Reform Act for more on him): Chancellor of Chester, has an outrageous tomb (designed by Thomas Mainwaring Penson) which is now mostly overgrown with ivy.
Harry Riley Horton: goldsmith, has a faded photograph set in sealed frame. This is very rare in the UK but is commonplace in Europe.
William Makepeace Thackery: doctor and uncle of the novelist (he is actually buried in the Cathedral, his monument is the big one in the middle).
John Trainer: fireman, whose son was washed overboard from the City Berlin on 25 March 1882, aged 23. His grandson died on board the SS Campania on 8 January 1911, also aged 23 and buried at sea.
Marjorie Anne Tucker: WRAF motor driver at RAF Sealand during WW1 (the only female military grave in the cemetery)
Robert Turner: Brewer, maltster and wine merchant. A large circular Grecian Temple was placed over the spot where his remains were laid. At some point its four pillars were removed and are next to it. Just the top remains.
Links and sources