Penson
From Chesterwiki
Jump to navigation
Jump to search
Life
Thomas Mainwaring Penson (1818–64) was an English surveyor and architect. He came from a family with a history of architectural work: both his father and grandfather, who were each named Thomas Penson, were also surveyors and architects.
Thomas Penson Snr
His grandfather Thomas Penson Snr. (c. 1760–1824) worked from an office in Wrexham, North Wales, and was responsible for the design of bridges, roads, gaols and other buildings in North Wales. He was at once mason, civil and mechanical engineer, surveyor and architect as as there was little differentiation between these professions at the time. He was appointed "Surveyor of Bridges and other Public Works" in Flintshire in 1805 and was de-facto (without any formal appointment) Country Surveyor of Denbighshire c 1808-1820. In 1787 he married Charlotte Brown (d 1824) of Wrexham, by whom he had three children including Thomas Jnr. (q.v.) and John Penson (an artist). Among his many works was the construction, to mark the Jubilee of George III, of the Jubilee Tower on Moel Famau following a rather odd design by Thomas Harrison. The tower was designed like an Egyptian obelisk with three tiers. Although the foundation stone was laid in 1810 by George Kenyon, 2nd Baron Kenyon, the tower was never completed due to a lack of funds. In 1862, a major storm brought down the incomplete tower. The remaining upper part of the structure was demolished for safety reasons leaving just the base. Most of the rubble was removed from the site; smaller stonework was robbed-out by local farmers for use in dry stone walls.
Thomas Penson Jnr.
For around 40 years Pernson Snr's son Thomas Penson Jnr. (c.1790–1859) was the County Surveyor for Denbighshire (c.1820/1-1859) and Montgomeryshire (1817-1859), where he is noted to have revolutionized the road systems and to have built and rebuilt several bridges, civic structures, churches, and country houses, some of the latter in the 'Elizabethan' style and others (such as parts of Llanerchydol Hall, and the "Butcher's Market" in Wrexham (1848)) in the Gothic Revival style. He later moved to Oswestry, Shropshire where he established an architectural practice. Early in his career Penson Jnr. was a pupil of architect and bridge designer Thomas Harrison. In 1814 he married Frances Kirk (b 1793), the daughter of Richard Kirk (later Kyrke) the Wrexham ironmaster. They had ten children including Richard Kyrke Penson (1815-1886) who was Country Surveyor of Montgomeryshire, Carmarthenshire and Cardiganshire) and Thomas Mainwaring (1817-1864) who was Country Surveyor of Cheshire and Flintshire.
Penson's combined use of Gothic and Tudor features appears to have significantly influenced his son who did much to introduce the style into Chester. In the late 1830s, at the same time as Penson was working on remodelling Vaynor Park in Berriew for John Winder Lion-Winder, he is believed to have been remodelling and building houses in Berriew for the Vaynor estate. As a result of this work Berriew developed as a village with many attractive Cottage Ornée houses. Some of these were rebuilt from earlier timber framed buildings, while others were built in a Tudor Revival style and are some of the earliest examples of Black-and-white Revival architecture. Penson's style can be recognised by the massive brick chimney stacks which have been added to the houses, the ornamental bargeboards to the gables and in some cases the black and white painting on the brick work to give the impression of timber framing (from a distance).
Thomas Mainwaring Penson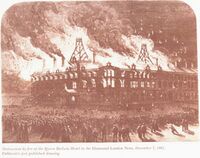 Thomas Mainwaring Penson (1817-1864) was born in Oswestry, and was educated at Oswestry School. He and his brother, Richard Kyrke Penson (1816-1886), then trained in their father's practice. The elder brother, Richard, seems to be the better qualified and more prolific of the two.
Penson was appointed as County Surveyor of Cheshire and moved to Chester. He laid out Overleigh Cemetery in 1848–50, probably to a design by Lister.
He is credited with pioneering the Vernacular Revival style at Chester during the 1850s. His first building in this style (Number #40-44) was built in Eastgate Street in 1852. Hughes noted the following:
It has since been demolished and replaced by a later Vernacular Revival building by Philip and William Lockwood.
Penson died, during the construction of the Grosvenor Hotel in Eastgate Street at the relatively young age of 46.
Works in Chester
1850s
1860s
Sources & Links