Douglas
From Chesterwiki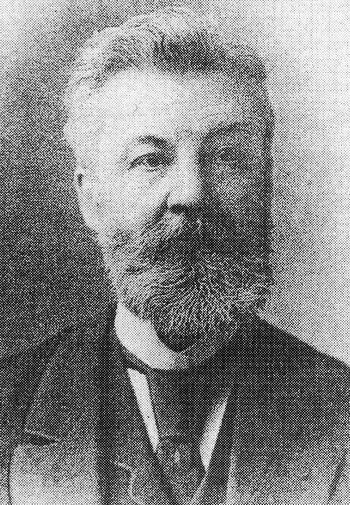 Life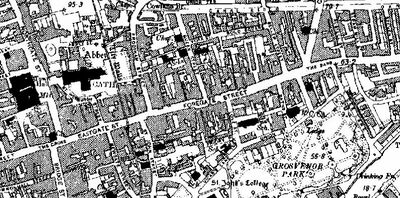 John Douglas (11 April 1830 – 23 May 1911) was an English architect who designed about 500 buildings in Cheshire, North Wales, and northwest England. He was the son of John Douglas Snr. (c.1798–1862) a self-made Cheshire builder, joiner, some-time timber-merchant and surveyor, and was born at Park Cottage in Sandiway. His mother, Mary Swindley (1792–1863) was the daughter of a blacksmith from Eccleston. Before setting up on his own in around 1860, he was trained in the mid/late 1840's under Edward G. Paley in Lancaster. From his training with Paley, Douglas learned to design in a Decorated Gothic style. The Gothic Revival was paralleled and supported by "medievalism", which had its roots in "antiquarian" concerns with survivals and curiosities. As "industrialisation" progressed, a reaction against machine production and the appearance of factories also grew. Proponents of the picturesque such as Thomas Carlyle and Augustus Pugin took a critical view of industrial society and portrayed pre-industrial medieval society as a golden age (ignoring various plagues, a few wars, repressive society, &c).
Douglas was influenced by Augustus Pugin and the Cambridge Camden Society and his early buildings were in High Victorian style. He is believed to have never traveled in Northern Europe but incorporates elements of French, German and Dutch architecture in his style. From the mid 1860s he became influenced by architectural styles on the Continent including Italian Gothic and Renaissance and styles from France, Germany and the Netherlands. By the later 1880s and 1890s he had returned to English styles such as Tudor and neo-Jacobean. Douglas had first-hand experience of the building crafts while he worked for his father: of particular importance to Douglas's style is use of joinery and highly detailed wood carving. Other Vernacular elements he uses often include tile-hanging, pargeting, the use of decorative brick in diapering and the design of tall, ornate chimney stacks.
When Douglas moved to Chester in the early 1860's the use of Vernacular Revival elements had already been started, particularly by James Harrison and also by Thomas Mainwaring Penson, but it was Douglas and Lockwood who developed it. Although Douglas achieved national fame as an architect, practised throughout his career from offices in Chester and never, for example, became a member of the Royal Institute of British Architects. Many of the architects training and working in Douglas's office were influenced by him. These included Edward Ould. Other architects who did not work in his office were also influenced by him: these include Lockwood, Strong and Beswick.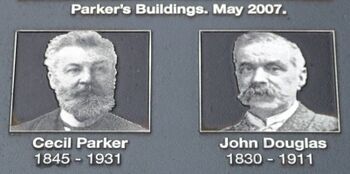 In the series The Buildings of England, Nikolaus Pevsner described him, without reservation, as "the best Cheshire architect". Douglas' biographer, Edward Hubbard, expressed the opinion that he was "the most important and active local architect of the period", and that his buildings are "anything but copyist" and they "bear a highly individual and nearly always recognisable stamp" and further states that the major characteristics of his buildings are "sure proportions, imaginative massing and grouping ... immaculate detailing and a superb sense of craftsmanship and feeling for materials .. architecture which can be enjoyed as well as admired".
Douglas did not have a happy family life. He married Elizabeth Edmunds in 1860, and they had five children of which only two sons survived to adulthood. Elizabeth died in 1878 of laryngitis, son Colin trained as a architect but died of tuberculosis in 1887 at the age of 23 and the surviving son, Sholto Theodore appears to have been an alcoholic. Initially he ran his Chester practice on his own. From 1884 (when Colin first became ill) until two years before his death he worked in partnerships with two of his former assistants. Daniel Fordham (born 1845/6) joined Douglas as a partner in 1884. Fordham had been a draughtsman in Douglas' office since at least 1872 but he too developed tuberculosis and retired in 1898. He was replaced as a partner by Charles Howard Minshall (born in 1858). Minshall had been articled to Douglas in 1874 and then remained with him as an assistant. This partnership was dissolved in 1909 when Minshall joined E. J. Muspratt.
The family first lived above his office at 6 Abbey square, moving later to number 4: all of their children being born in Abbey Square. In about 1876 the family moved to Dee Banks, where Elizabeth died. Douglas built and moved into (together with his surviving son Sholto) Walmoor Hill on the banks of the River Dee in c.1896 and lived there until his death in 1911 at the age of 81, by which time Douglas appears to have become deaf. His house acquired the local nicknames of "Douglas' Castle' and Douglas' Folly'. Douglas was was noted for not billing his clients promptly, and was known in some cases to have let years pass before sending out a bill.
His estate amounted to a little over £32,000 (£2,840,000 as of 2014). His practice was absorbed by Minshall and Muspratt under the title of Douglas, Minshall & Muspratt. John Douglas was buried in Overleigh Cemetery.
Works in Chester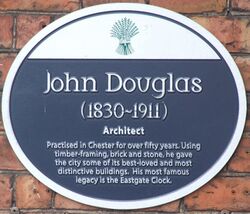 While Douglas designed over 500 buildings, below are the listed buildings in Chester and its suburbs. Douglas created so many buildings in the area north of Grosvenor Park that the streets became known as "Douglasville". Douglas' most photographed creation is the Eastgate Clock, which he designed to celebrate the Diamond Jubilee of Queen Victoria in 1897, but which was only "up and running" by 1899. All dates used below are the "completion" dates of the buildings.
1860's
1865 - Lodge in Grosvenor Park - his first use of part-timbered;
1867 - Billy Hobby's well at Grosvenor Park, as well as various gates in the park;
1868 - Douglas' daughter Mary Elizabeth dies of Scarlet Fever, aged 2;
1869 - Temporary triumphal arch for the visit of the Prince of Wales to Chester;
1869 - Douglas' son Jerome dies, but a few weeks old;
1869 - 31-33 Dee Banks (built as his own home)
1870's
1873 - St Werburgh's Chambers;
1873 - Douglas' son John Percy dies, aged 12;
1874 - St Werburgh's Mount;
1876 - St Paul's Church, Boughton - the Church was closed in 2012 due to safety issues;
1877 - St Johns Chester;
1877 - Nag's Head Cocoa House, Foregate Street (since demolished);
1878 - Lumley Place (attributed to Douglas) built on the site of a sawmill, for the 1st Duke of Westminster as almshouses for retired clergy;
1878 - Douglas' wife dies
1880's
1890's
1900's
1910's
Links & Sources