Hughes
From Chesterwiki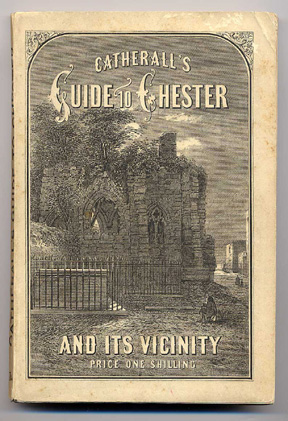 Life
Thomas Hughes FSA (1826-1890). Born in Chester, he attended The King's School, which was then housed in the old monk's refectory in the Cathedral. Later in life, he became a governor of the school and founder of its old boys' association. He was a fellow of the Society of Antiquaries, served as Sheriff of Chester (1873-74) and also as warden of St Johns Church.
His home was The Mount, which formerly stood in St Werburgh Street opposite the Cathedral. Just before it was demolished, he commissioned a picture of it from local landscape artist Louise Raynor. In 1856, Hughes wrote of the facilities at Overleigh Cemetery that, "nature and art make them worthy of the dead and pleasant for the living". He was later (1890) laid to rest there himself.
Not to be confused with...
Thomas Hughes, social reformer and children's writer sought an appointment, which he was given in July 1882, as a county court judge. This brought an end to his involvement in politics, and a move to Chester. He resigned from the Co-operative Union. His work as a judge seems to have been congenial to him although, according to John Telford, "his rough and ready justice became a byword for constant reversal on appeal" (Telford, 10). During the 1880s he wrote four more biographies, including Daniel Macmillan (1882) and David Livingstone (1889). Edward Augustus Lyle Ould built him a house called Uffington, at Dee Hills Park, Chester, to which he moved in October 1885. His daughter, Lilian Hughes, perished in the sinking of the RMS Titanic in 1912.
Works
Hughes' often humourous style contrasts sharply with the somewhat snobbish Hemingway. He is obviously fond of his food an drink and makes frequent and enthusiastic references to various "Watering Holes" in his guidebook. One example being at the end of his "Heigh-Ho Off We Go" circumperambulation of the City Walls:
"Stepping down from the Eastgate on its opposite side we have now completed our circuit of the Walls and our appetite being somewhat sharpened by our long walk we will turn into the Blossoms and discuss the merits of such savoury meats as mine host of that ilk is enabled to lay before us .. Having adequately refreshed the inner man we will now like Don Quixote sally forth into the STREET in search of the picturesque and doubtless we shall there find much of a nature to interest and delight us."
Sources and links