On Thursday, approximately 10AM UTC, we'll be performing our MediaWiki 1.34 deployment. Please expect some downtime, we apologise in advance for any inconvenience!
Moses Griffiths
From Chesterwiki
Jump to navigation
Jump to search
Life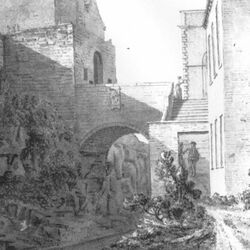 Moses Griffith(s) (6 April 1749 – 11 November 1819) was a Welsh draughtsman, engraver and water colourist. Griffith was born 6 April 1749 at Trygain House in the parish of Bryncroes on the Llŷn Peninsula, Caernarfonshire. His parents were of humble station, and he received a very elementary education at the Free School at Botwnnog but, being clever with his pencil, he was taken into service by 1767 (if he is the 'lad from Llŷn' referred to in a letter from Owen Holland to Thomas Pennant). He was employed by Lady Bulkeley at Baron Hill on Anglesey to draw specimens for her natural history collections. By the following year he was working for Thomas Pennant about 1769. Pennant helped him to study drawing and engraving, and Griffith became his constant companion on his tours and excursions. Griffith became proficient both as a draughtsman and as an engraver. Griffith initially worked on illustrating specimens for Pennant's scientific publications: many of the pictures of birds and animals in the "British Zoology" (Pennant) bear his name. But he rapidly developed as an artist of landscapes and buildings, accompanying Pennant on his second tour of Scotland and the Hebrides in 1772.
On leaving Pennant's service he settled at Wibnant, near Holyhead, where he obtained plenty of employment as an engraver, He was alive in 1809, when he wrote a letter defending himself from an attack to the Gentleman's Magazine. Francis Grose employed Griffith to engrave some of the plates in his Antiquities. Griffith also painted water-colours of Welsh scenes, churches, country houses, and portraits, including two self-portraits. He married Margaret Jones of Whitford, Holywell in 1781, and they had two children.
Works
Related Pages
Sources and Links