Boughton (author)
From Chesterwiki
Jump to navigation
Jump to search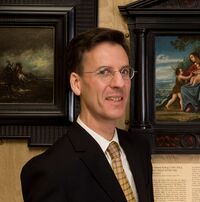 Life
Peter Boughton (1959-2019) BA, FSA, FRSA, AMA is the Keeper of Art at the Grosvenor Museum in Chester. He has a degree in history from the University of Hull and a postgraduate diploma in the history of art from the University of London. He is a Fellow of the Society of Antiquaries, a Fellow of the Royal Society of Arts, and an Associate of the Museums Association. His field of interest is Western art from Late Gothic to the present day, with a particular passion for the Baroque and Rococo. Working at the Grosvenor Museum since 1983, he has created the Art Gallery, the Silver Gallery and eight period rooms (at 20 Castle Street), and has acquired over 2,000 works of art. He has also curated more than 120 exhibitions, ranging from Old Master paintings to contemporary art. He is a trustee of the Beecroft Bequest, an expert adviser to Arts Council England's Acceptance in Lieu Panel and to the Art Fund, consultant on art and silver to the Chester Diocesan Advisory Committee, a member of the Chester Cathedral Fabric Advisory Committee and the Art Fund Cheshire Fundraising Committee, and an external examiner for the University of Chester.
The "artistic" history of Chester is an often forgotten window into the past as it touches on both the "what" and "why" of historic depictions.
Peter died in 2019: he is sadly missed.
Works
He is the author of "Picturesque Chester: The City in Art" and the "Catalogue of Silver in the Grosvenor Museum, Chester", co-author of Robin Ironside: Neo-Romantic Visionary (an obsessive painter sometimes surviving on nothing but laudanum and boiled eggs), and editor of Michael Sandle: Monumental Rage (Sandle attended evening classes at Chester School of Art - once based at the Grosvenor Museum).
He is currently (2018) working on his fifth book, "A Catalogue Raisonné of the Etchings of George Cuitt (The Younger: 1779-1854): England's Piranesi". Cuitt followed his father's profession as an artist from his youth, and added to it the art of etching, which he developed with great success, being induced to do so by a careful study of Piranesi's 'Roman Antiquities.' Cuitt came to Chester, where he became a teacher of drawing, and published, in 1810 and 1811, 'Six Etchings of Saxon and other Buildings remaining at Chester,' 'Six Etchings of Old Buildings in Chester,' and 'Six Etchings of Picturesque Buildings in Chester,' and, in 1815, five etchings for a 'History of Chester' (written by Pigot).
Picturesque Chester (with a first nod to Cuitt and a second nod to Coward) is an excellent guide to the work of artists as regards Chester, with reproductions of their work and copious explanatory notes on the content of the depictions. The Grosvenor Museum has been collecting local contemporary art since 1992. Acquiring from artists connected with Cheshire and North Wales, the collection celebrates the quality and variety of the region's artistic creativity.
Sources and links