William Tasker
From Chesterwiki
Jump to navigation
Jump to search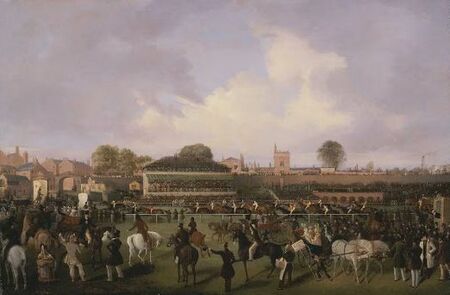 Life
William Tasker (1808-1852) was born in London, the son of a journeyman cabinet maker. The family moved to Chester and at the age of ten he attended the Bluecoat Charity School where he remained until 1822. He studied drawing under Robert Norris. On leaving school he worked for a painter and decorator and soon moved to Leeds to learn the trade of lithographer with the firm of Masser Bros. Due to ill health he was forced to return to Chester where he set himself up as an artist. While in Chester he was appointed art teacher to the children of Squire Richard Congreve of Burton Manor on the Wirral.
One of his first important patrons was Robert Grosvenor, 1st Marquess of Westminster, for whom he painted a number of racehorses including Decoy in 1832 (exhibited at the Liverpool Academy). He was also appointed art teacher to the children of Squire Richard Congreve of Burton Manor on the Wirral. The majority of Tasker's equestrian work was racehorse portraiture and racing scenes. Mitchell notes that the present work was one of his best examples,
"Of his more successful works were Dey of Algiers, winning the Chester Cup in 1840 with Matt up...and The Finish of the Liverpool Cup 1839....His racing scenes abound with figures and the work and time he must have put into them would emphasise that he did not paint purely for money."
In 1850, a commentator Robert Colton wrote about Chester racecourse and the atmosphere of a race-meeting there:
"The course is a vile libel upon the term hippodrome, being neither more nor less similar to running round a plate, so circumscribed is the ground, and dangerous to a large field. But for fun, frolic and jollification, I know no place like Chester" (R. Longrigg, The History of Horse Racing, 1972, p. 141).
A year prior to this "Puff", Francis Calcraft Turner had also depicted Cardinal Puff in a work that was commissioned by the 1st Marquess of Westminster to celebrate the victory of his horse "Cardinal Puff, with Sam Darling up", in a field of eighteen runners. The distance was twice round Chester's small oval course "starting at the Castle-pole and ending at the Coming in chair". Entitled "Cardinal Puff Winning the Tradesman's Plate at Chester Races, 1839", it was sold by the Executors of Anne, Duchess of Westminster at Christie's, Woburn Abbey, 21 September 2004, lot 1020. R.M. Bevan had used that image as the jacket cover for his book "The Roodee: 450 Years of Racing in Chester", published in 1989.
Sources & Links