Stanley Street
From Chesterwiki
Jump to navigation
Jump to search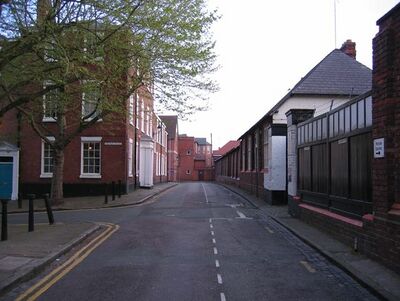 During the 1770s Stanley Place and Stanley Street were developed. At the time of this sale the entire area was known as the Grey Friar's Close or, alternatively, as the Yacht Field.
The linen trade reached its peak in the 1770s and 1780s. The focus remained the fairs, opening on 5 July and 10 October after the change of calendar in 1752, and each lasting for a fortnight. In the mid 1770s a group of 37 English and Irish merchants each subscribed £100 towards new premises. The New Linenhall, built on land purchased from the Stanley family, was opened in 1778 between Watergate Street and Bedward Row, soon known as Linenhall Street. It comprised a rectangular courtyard a from which their cloth was distributed by wagon and pack horse throughout the country, around which were arranged 36 double shops to east and west and 23 single shops to north and south, all built in brick. All 95 shops were let in 1778, mostly to Irish traders, but thereafter numbers rapidly declined. Trade fell off equally quickly as English merchants becan to deal directly with the Irish, the Belfast-Liverpool route grew in importance over the Dublin-Chester route, cotton became cheaper and the River Dee continued to silt. In 1805 only c. 60 were let, and in 1815 c. 45. In 1823, when lettings had fallen to 29, including four used for cotton goods, the proprietors were recommended to surrender their rooms in order to escape liability for rent. By 1831 the Irish linen trade through Chester was dead.
After the linen trade declined, the building was utilised as a cheese store and market, It was said to have been a sleepy and quiet place except during the Cheshire Cheese Fairs, when in a few hours thousands of pounds could change hands.
The site more recently was used for stables associated with the racecourse, with the horses being led out down Stanley Place. In 2009 the stables were demolished, they were of no special architectural merit, and the site is now, despite other proposals which have come to nothing, in temporary use as a surface car park.
Related Pages