St Thomas
From Chesterwiki
Jump to navigation
Jump to search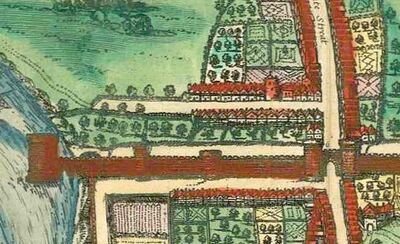 St Thomas the Apostles Chapel was situated in the Abbey Court on the ground which is now occupied by the Deanery. This was not the only St Thomas, a second chapel of the same name was apparently located near St John's Hospital. Pigot writes of the extramural chapel:
"Thomas a Becket Archbishop of Canterbury had a church dedicated to him by the above title this was situated at the extremity of further Northgate street between the high roads to Upton and Mollington. It was converted into a dwelling house by Alderman Dutton and was afterwards called "Jolly's Hall" but was demolished in the year 1645. The church yard of this St Thomas is mentioned in the Leger Book. The Abbot and Convent of St Werburgh claimed from time immemorial (by plaint not long before the dissolution) a Leet of all the residents within the Northgate street, viz "from the Northgate of the said city unto the church of St Thomas once by the year to be holden with all manner of things and articles which to a Łeet do appertain" &.The Dean and Chapter of the Cathedral still continue to hold St Thomas of Canterbury's Court (vide p 65)".
T. Cadell And W. Davies version of Lysons (volume II) also has Jolly's Hall being named "Green Hall" and states that the name of Jolly was aquired from a subsequent proprietor. There is some confusion about the actual site, which may be that of the "George and Dragon".
There is a modern St Thomas as well. In 1868 the growing population of the parish led to the decision to build a chapel of ease, and land was obtained from the Dean & Chapter in Parkgate Road. The cornerstone was laid on 6 April 1869 by H.C. Raikes (MP for Chester) with the west end of the building bricked up to facilitate extension when circumstances permitted. The new chapel, dedicated to St. Thomas of Canterbury, was consecrated on 4 April 1872 by William Jacobson, Bishop of Chester.
Sources and Links