St Martin
From Chesterwiki
Seacome (writing in 1828) describes it as follows:
"Formerly called St Martin's of the Ash stands at the west end of White Friars and Cuppings Lane. It appears to have been an ancient foundation for it is mentioned in a deed in the year 1250 wherein Bernard de Trannuille releases to Philip le Clerk a rent of 12d arising from premises situate "near the church of St Martin in Chester". The old church mentioned in this deed having fallen into decay was rebuilt in 1721 as we learn from an inscription on the front of the steeple. It is a remarkably small but very neat structure pointed with stone at the angles and finishings. The interior is handsomely fitted up and is capable of accommodating about 250 sitters. The open ground in front of this church bears the name of "Martin's Ash" derived in all liklihood from the circumstance of an ash tree having formerly stood on the spot."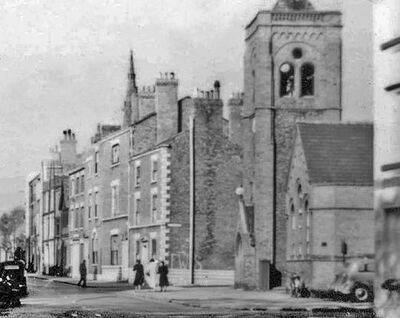 On 27 April 1842 the district was united with that of Chester: St Bridget to form the combined district of "St. Bridget with St. Martin", which in January 1973 itself became part of a unified district for the city of Chester. St. Martin's closed in 1963 and was demolished to make way for the Inner Ring Road around 1969 - a nearby part of which is known as "St Martin's Way".