Some legal stuff about images of buildings
From Chesterwiki
Jump to navigation
Jump to search
The Result
Good News: in 2015 an overwhelming majority of MEPs voted against a controversial EU plan which threatened photography of buildings in public spaces. For why this was important and what the consequences might have been see below.
And thanks to everyone who reads Chesterwiki and supported the campaign against this proposed law change.
The Original Article
Did you know that photographing the Eiffel Tower could be the first step on the road to a French jail? Or that in the not too distant future the same might happen (with an English jail) if you were to photograph some new block of flats, new office block or new hotel building in Chester? If you didn't, I'd like to draw your attention to the following links. Please feel free to pass these on to others who might be interested: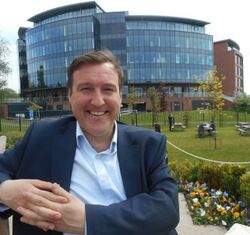 The debate concerns a potential change to EU law as regards use of photographs which feature buildings and public art. All of us are interested in the architecture of Chester and in one possible form this law would appear to severely restrict what could be shown in various media. This is of particular relevance to business and tourism related websites. The proposed law is still at an early stage - with the MEP's rather than the Commission - but now is perhaps the time to write to MEP's and get it stopped.
In the worst case under the proposed new law, if a "public realm" image of a "modern" building (or sculpture) is shown on a web-page then a licence fee may have to be paid to the architect (or other owner of the copyright) as this is a "derivative work" (that is similar to the current, and frequently flouted, law in Italy, for example). I picked this up on Wikipedia, who appear quite concerned that it may mean that they will have to remove "thousands" of images.
A further problem arises from the "terms and conditions" on many websites which use content posted by users. These T&C's typically say something like:
"For content that is covered by intellectual property rights, like photos and videos ("IP content"), you specifically give us the following permission, subject to your privacy and application settings: you grant us a non-exclusive, transferable, sub-licensable, royalty-free, worldwide license to use any IP content that you post on or in connection with our site ("IP License")."
Obviously, you should not grant this licence unless you know you can. In the UK, at present, if you photograph a building yourself then there generally isn't a problem, except that there is a prohibition on taking photographs for use "in connection with any business" in Trafalgar Square and Parliament Square in London, without paying a hefty fee. So if you take a picture of the fountains in Trafalgar Square and put it on Fackbook do you have a problem? - probably not, if you could be described as a "tourist".
It appears that the proposed law might not apply to "non-commercial use", but the legal definition of "non-commercial" is not that clear. For example, is a site promoting tourism commercial? I consider my own pages to be "non-commercial" at least to the extent that Wikpedia is, but there are many "commercial" websites about Chester that feature images of "modern" buildings. But what if you enter a photography competition with a cash prize - or upload your image to "Wordpress", "Blogger", "Facebook" or "Geograph"? - or have "Quadcopter" with a camera, or paint street-scenes. There are many other examples on the "IPKat" website - an informal discussion site for IP lawyers (like me). Essentially, even the lawyers find it hard to decide what will be illegal under the proposed law.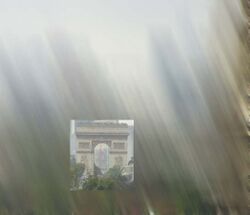 As a reminder, the term of copyright in the UK is:
if the author is unknown, the copyright period ends 70 years after the making of the work; or, if during that period the work is communicated to the public, 70 years after that date.
if the author of the work is identifiable, copyright in the work expires 70 years after the death of the author.
Section 62 of the Copyright Designs and Patents Act 1988 expressly permits making images of buildings, and also to sculptures and works of artistic craftsmanship that are permanently situated in a public place or in premises open to the public. Section 62 provides that copyright in such a work will not be infringed by making a graphic representation of it (that is, a drawing or a painting) or by making a photograph or film of it, or by making a broadcast of a visual representation of it. That is the current UK law - but what will happen if the law is changed?
To give an example, Maxwell Ayrton, who designed St Werbergh's Row around 1935, died in 1960, so his copyright as regards "derivative works" expires in 2030. So, if you want to show a pretty picture of Maxwell's building to attract business, including tourism, (or show how one of the pillars is sinking into an old sand-pit) then you might need to get permission and acknowledge the copyright owner - who might want a fee. I believe in the worst case, this law would be bad for many business interests, especially in such an attractive a place as Chester.
I can see its fair and reasonable to stop someone from photographing modern art and selling prints without paying the artist a penny, but stopping people photographing Charles Greenwood's Dee Suspension Bridge (1923) is a bridge too far. In fact, it seems he did live long enough - in 1945 he proposed knocking down the old market hall. Even if he died on the spot that would mean for at least part of 2015 the copyright would not have the "Section 62" exemption. Just imagine the complications of having to find out who owns any subsisting copyright in Greenwood's Bridge before publishing a photograph.
There are exceptions in the current law (current law): at present news reporting is "fair use" and does not infringe copyright in any work (provided it is accompanied by a sufficient acknowledgement, and provided the work has been made available to the public). Gov.uk summarises the law as follows: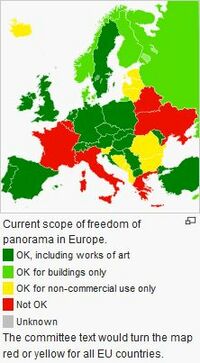 Fair dealing for criticism, review or quotation is allowed for any type of copyright work. Fair dealing with a work for the purpose of reporting current events is allowed for any type of copyright work other than a photograph. In each of these cases, a sufficient acknowledgment will be required.
The section 62 "Freedom of panorama" means that the press (or anyone else) does not need a "sufficient acknowledgement" for buildings and public sculptures. Think how much more difficult a press photographer's life would be if he didn't have the benefit of the "Freedom of panorama" and had to go and track down the architect/copyright owner of every building/sculpture in the background which seems less than about 150 years old (or take his shots from weird angles)! This law will make news reporting slow and difficult.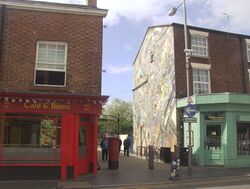 The EU proposal comes from a wish to harmonise laws. In France, it is illegal to publish a photograph of the Eiffel Tower by night since the tower's illuminations added in 2003 retain copyright, even though the copyright for the structure itself, built in 1889, has long since expired. Daytime photographs are acceptable, but prior permission must be obtained from operating company (Société d'Exploitation de la Tour Eiffel (SETE)), which owns the rights, for lit-up images. The only exception is for "private" use, which does not include putting the pic on "Facebook". The official website explains how the charges for using an image are determined only after full disclosure of the intended use.."etc":
"The various illuminations of the Eiffel Tower (golden illumination, twinkling, beacon and events lighting) are protected. The use of the image of the Eiffel Tower at night is therefore subject to prior authorisation by the SETE. This use is subject to payment of rights, the amount of which is determined by the intended use, the media plan, etc."
Belgian law is similar - websites using pictures of the "Atomium" building in Belgium, for example, have been threatened with litigation unless they pay-up or remove images. Wikipedia has an archive of over 4500 requests that images of buildings be deleted. Many of these have been made with reference to the French Law.
Even the UK law is not without the odd "glitch". Due to UK copyright law, we cannot show a detailed image of the Brook Street mural (or any other mural) without permission. This is because those are two-dimensional works, not buildings or sculptures. So if "Banksy" does an artwork in Chester, freedom of panorama would not apply and we could not upload an image (without permission).
I am not anti-copyright or anti-IP, but these things need a resonable balance (for example, there are some who would restrict use of copyright works to a format - and make it illegal to upload your old record/tape collection onto an iPod). If the UK "harmonises" on the French and Belgian model - which is the current proposal, anyone will need to do a lot of homework, to determine the legality of it, before they can put their holiday snaps on the web. And all those "tourist" information sites on Chester, will face a huge administrative overhead. And if the press wants to photograph the poor state of repair of my nuclear power-plant, they can't - its copyright until 70 years after the radiation gets me.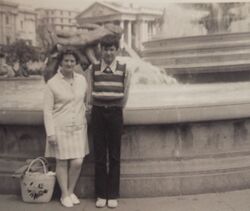 The upside to this is that this is only a proposal at present, MEP's effectively make suggestions not laws. But now (2015) is possibly a good time to write to your MEP and let them know what you think about the proposal to "harmonise" along French lines. Indeed some commentators see the threat as merely "Freedom of Paranoia" and that Wikipedia and the various Newspapers are simply scaremongering.
THE BORING BIT: Obviously, this is merely a notification and should not be considered, or relied upon, as legal advice in any way. If you are unsure that its OK to upload an image, then don't, or consult a lawyer at your own expense.
sources and links