Pat Collins
From Chesterwiki
Jump to navigation
Jump to search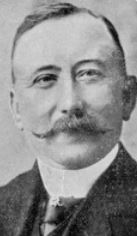 Patrick Collins (12 May 1859 – 9 December 1943) was a Liberal MP for Walsall (1922–1924) and Mayor of Walsall (1938), but he is chiefly remembered for his involvement in the fairgrounds industry; in fact, the "Pat Collins Funfairs" company still bears his name. He was also an early presenter of moving pictures, both in travelling shows and in cinemas. At one point, he was running four separate fairs a week and owned thirteen cinemas and several skating rinks.
Life:
According to many accounts Collins was born 12 May 1859 at a fairground in Chester. He was one of five children born to John Collins, an agricultural labourer and horse dealer of Irish descent. The family lived at Boughton Heath. John soon gave up his life as a farm labourer to become a travelling chapman with a crock shop opposite the small house where other accounts state that Pat was born. John was interested in any form of trading, having a rag store at 51, Stephen Street and a yard at Filkins Lane. Here he stored in the winter a "one boat yacht", which he drove about the surrounding counties in the season of fairs, from February to November.
Patrick attended St. Werburgh Catholic School: then located in Queen Street, but left at the age of ten to go travelling with his family. At the age of 35 he expressed his thanks to the church and school by giving the church a richly carved marble pulpit with the inscription "Pray for Patrick Collins who gave this pulpit". Some people still refer to St. Werburgh's, in Grosvenor Park Road as "Pat's church".
He joined his father and his brother John, travelling around the fairs in Cheshire, Lancashire, North Wales, Shropshire, and Staffordshire, with small rides. On 20th July, 1880 he married Flora MacDonald Ross, the daughter of a Wrexham jeweler, and set himself up as a roundabout proprietor. Pat was twenty one when he married and so poor that he had to pawn his best suit and actually attended the wedding ceremony (in Liverpool) in corduroys. Having only one shilling in his pocket he characteristically cast caution and the shilling to the winds and into the River Mersey.
Over the next few years acquired several more rides including his first steam gallopers in 1883, a second set of gallopers in 1886, a sea on land ride in 1887, and switchback gallopers in 1888. His business flourished, and he purchased two Burrell showmen's engines, the first in 1894, the second in 1896. Within a few years he moved into his first house, number 69 Stafford Street, Walsall, and in 1899 founded Pat Collins (Walsall) Limited. He opened Gondola Works at Shaw's Leasowe, on the corner of Algernon Street and Shaw Street in Walsall, to repair and maintain his vast range of fairground rides and equipment. Pat and his wife Flora moved into nearby "Chester House" in Algernon Street.
Pat clashed with the local "toughs". The Birmingham gangsters were organised in three gangs: the Black Mask Gang, the Peaky Blinders and the Stool Boys. They not only refused to pay competition or entrance money at fairs but demanded protection money and, when refused, wrecked booths and stalls. Having seen these toughs operate without any intervention from the police, Pat determined on retaliation and armed his men with knuckle dusters, lengths of rubber pipe and "life preservers". After a violent confrontation he was left alone from further demands.
Pat Collins first presented "moving pictures" in 1899/1900 when he took over the ex-Wall and Hammersley's "ghost show". With the demise of the moving image on the fairground and the transition to permanent cinema, Pat Collins ceased travelling both shows by 1914 and then expanded into the cinema business. By the mid 1920s, Pat Collins claimed to own fourteen cinema or assorted variety establishments; these included three cinemas in the Black Country, of which the Grosvenor in Bloxwich is the only one still remaining. His other cinemas included the purpose built (1921) "Cinema De Luxe" in Brook Street Chester. Appropriately, the opening film was Harley Knoles' production, Carnival. An orchestra, under the direction of the remarkably-named Mr J. J. Proverbs accompanied the images on screen. Pat Collins, noted for his generosity, donated the takings from the first performance to the YMCA.
Chester's Fairground
The traditional location of the funfair at Chester is the (now car-park) on the Little Roodee, just to the east of the Grosvenor Bridge. This has been the site of funfairs and earlier circusses for many years: Jones reports that the fun-fair was held here from 1890. "Chester in the great war" page 63 gives one of the visitors as "Lord John Sanger's Royal Circus and Menagerie" and another was "Bostock and Wombwell's Menagerie". Sanger's circus provides a curious Beatles connection with Chester (the house "Nowhere" is just across the river): Sanger's circus once featured William Kite, an all-around performer whose appearance at Rochdale, as announced on a poster for Pablo Fanque's Circus Royal, was the inspiration for The Beatles song "Being for the Benefit of Mr. Kite".
During the First World War the council had the Little Roodee seeded and was still letting it for grazing sheep in the winter of 1920–1, but in 1921 it was laid out as a parking ground for charabancs and other motor vehicles, complete with public lavatories. The race week fair and occasional circuses were still held there.
Sources and Links
Related pages
Online