On Thursday, approximately 10AM UTC, we'll be performing our MediaWiki 1.34 deployment. Please expect some downtime, we apologise in advance for any inconvenience!
Ould
From Chesterwiki
Jump to navigation
Jump to search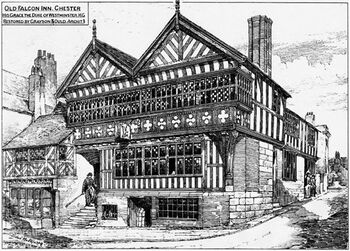 Life
Edward Augustus Lyle Ould (1852–1909) became a pupil of the Chester architect John Douglas after earlier studying in York. He established his own practice in 1882 and in 1886 he joined in partnership with the Liverpool architect George. E. Grayson. His early work was influenced by Douglas, particularly his use of half-timbering. He was co-author of a book on half-timbered buildings - "Old Cottages, Farm Houses, and other Half-Timber Buildings in Shropshire, Herefordshire and Cheshire" (1904). Before he joined Grayson, Ould's works include Uffington House for Thomas Hughes, and the Queen's School, both influenced by John Douglas.
One of Ould's regular clients were the Lever family and Ould designed much of the villages of Port Sunlight and Thornton Hough in a style that was influenced by Douglas.
Works in Chester
Links & Sources