Mitchell
From Chesterwiki
Jump to navigation
Jump to search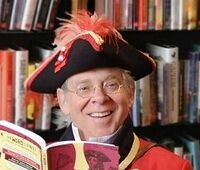 Life
David Mitchell and his partner Julie are the Chester Town Criers (2019) - the world's first married pair of such. Irrespective of the Weather, noon proclamations are provided at the High Cross five days a week in the summer, a tradition maintained at very few places in the world. David first encountered the Town Crier in Chester as a young man. He spent 16 years as a school-teacher before donning wig and tights and picking up the Chester handbell himself, first as Bellman (1992) and soon "promoted" to Crier. Julie is a costume designer. As well as the ceremonial, his role has involved such perils as cheese-rolling down Watergate Street, riding a zip-wire from the tower of St Peter and having a horse bolt under him while proclaiming a wedding near the well of Chester's famed Plegmund.
David is well recognised by the worldwide "Crier" community and has travelled globally with his work, being highly placed in many tournaments (which are not called "shouting matches"). His extensive and detailed research into the history of Bellmen and Criers has produced (as of 2020) two well-referenced, well illustrated and readable books. Both seek to correct many of the common "myths" about two professions which in England appear to date back to at least before the Norman conquest: Bellmen are portrayed at the funeral of Edward the Confessor.
Works
David is (2019) the author of two books on the subject of the "Town Crier". As he said (see: The Chester Blog):
"I wrote the book because when I first became a Town Crier, 27 years ago, my natural inclination was to read up on the role of what I was going to be part of" says David. "I went to the library and they didn't have anything so I contacted the British library and they didn't have anything either. They told me that they didn't think anything had ever been written. It took me a while to realise that there was an opportunity there!"
Sources and links