Medical Museum
From Chesterwiki
Jump to navigation
Jump to search

(work in progress)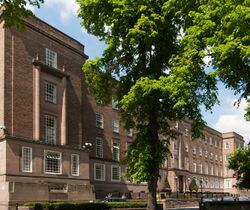 The large Neo-Georgian County Hall, used to house the offices of Cheshire County Council, was built between 1938 and 1957, (work was delayed by WW2). The building was designed by the county architect, E. Mainwaring Parkes, and involved the demolition of the gaol and houses in Skinner's Lane. The Chester Castle precincts (bounded by Castle Drive to the south, Grosvenor Street to the west and Castle Street and St Mary's Hill to the east - and not including the castle itself) were historically an extra-parochial area and today remain a civil parish, although with no inhabitants. Curiously, the parish was part of the Chester Rural District, and did not form part of Chester County Borough. This meant that County Hall was actually in the administrative county of Cheshire, despite being in the middle of the city. However, the Local Government Act 1972 saw it become part of the City of Chester district, along with the rest of Chester Rural District. In 1891, it had a population of 249, which had declined to 8 by 1971. According to the 2001 census, it had no inhabitants at all.
Architectural historian and critic Nikolas Pevsner commented of County Hall that it was: "not an ornament to the riverside view". It has been described elsewhere as "a meagre affair unworthy of its historic site and riverside setting" (Boughton, Picturesque Chester, no. 118). Presumably, the same was said of the Roman Fort, the Saxon Shire Hall, the various castles and gaols.
In 2009, County Hall was vacated by the Council, and the University of Chester bought County Hall in Chester from the City Council for £10.3m. The Council relocated to the nearby, newly built HQ Building, which replaced the hideously unsightly Police HQ and was purchased for £18.8 million. By 2010 the former local authority's offices had been transformed into libraries; IT and art therapy labs.
The Medical Museum descibe themselves on their website as follows:
"The Museum, based at the University's Riverside Campus on Castle Drive, contains a permanent collection of curiosities from the world of medicine, nursing, midwifery and social work which features an original letter from Florence Nightingale, written from the Crimea in 1856. The First World War: Returning Home exhibition commemorates the 100-year anniversary of the conflict and provides an insight into what a soldier invalided back from the Front would have found on his return to Cheshire. Using local examples wherever possible, the exhibition covers aspects such as medical advances, the psychological effects of war, volunteering and volunteer nurses, a doctor's country practice, home life, food and recipes, rural life and social welfare. This exhibition has been refurbished with the generous help of the Heritage Lottery Fund and Big Heritage and the volunteers are in the process of expanding the exhibition to cover more about the inter-war years."
Sources and Links
Related pages
Online