John Romney
From Chesterwiki
Jump to navigation
Jump to search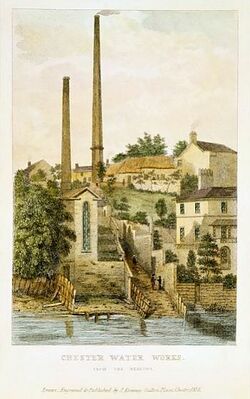 Life
John Romney (June 1785 – 1 February 1863) was an English artist in printmaking and watercolour who lived and worked in London and Chester. He seems to have been in no way connected with the family of the famous painter George Romney. John Romney was born in Newcastle upon Tyne, the third of seven children of John and Dorothy Romney. His father was a linen draper and the family moved at some time after 1801 to Lambeth in London where John Romney senior continued with his business. John junior was apprenticed to an engraver and in 1807 he won a prize for drawing (of a Roman gladiator) at the Society of Arts which enabled him to establish himself as a teacher. One of his pubils was the engraver Robert Graves. He exhibited at the Royal Academy in 1807 and 1813. On 16th August 1810 Romney had married Elizabeth Brooks at St Bridget in Chester. She was not from Chester although her father, John Brooks, had moved to Chester from Birmingham some time before. Romney returned to London with his wife and they lived there for the next thirty years.
In 1840 or 1841 Romney moved with his family to Chester. John and Elizabeth Romney had one child, a son Robert Routledge, in 1811. Robert died in February 1857 and in July of that year Elizabeth died. Romney died at his home in Chester in 1863. Most of his Chester works give his address as "Oulton Place, Chester", which is at the western end of the bus station at Gorse Stacks. He is believed to have lived at number 1, although when he first came to Chester he lived in St Anne Street. His connection with Chester may well have resulted from his father's involvement with the linen trade, but when John Brooks and his wife had both died he left property to his daugher and her husband Romney. This property included buildings on George Street near Oulton Place.
Works
Much of his work consisted of reproductions of the work of other artists, but he produced some original prints, paintings and drawings. He contributed plates to Smirke's 'Illustrations of Shakespeare,' and to a series of reproductions of ancient marbles in the British Museum. Among the best known of his single plates are 'The Orphan Ballad-Singer,' after Gill, and 'Sunday Morning—the Toilette,' after Farrier.Like the great majority of contemporary printmakers he worked in both engraving and etching, often on the same plate, and descriptions of his prints as being in one or the other technique should be taken loosely. His best known original prints are a series of "Views of Ancient Buildings in Chester" from 1851-1854. Romney seems to have been fairly flexible with his definition of "ancient".
Sources and Links