Hugh of Avranches
From Chesterwiki
Jump to navigation
Jump to search


Hugh (the Wolf, the Fat) (1071-1101: First Earl)
(Kings: William I, William II (Rufus), Henry I)
Summary
Given a Palatine county with the power to make and break any law save treason in return for bankrolling Duke William's Invasion, Hugh built castles in England and made a poor job of invading Wales. He managed to arrange the marriage of his son into the monarchs family, but this was to end in tragedy.
Parents: Son of Richard Goz, Viscount of Avranches, in the far southwest of Normandy.
Spouse: Ermentrude of Claremont.
Children: One legitimate son, Richard of Avranches, who succeeded him. - see below for illegitimate issue.
Origins
Hugh was born around 1047. His father was Richard Goz (otherwise Le Gotz, or Le Gois) believed to be himself descended from Ansfrid, a Dane. One Hrolf Thurstain apparently followed his uncle Rollo, first Duke of Normandy to Normandy and married Gerlotte de Blois, daughter of Thibaut Count of Blois and Chartres. "Rollo" is a Frankish-Latin name probably taken from the Old Norse name Hrólfr, modern Scandinavian name Rolf. He married Poppa. All that is known of Poppa is that she was a Christian, and the daughter to Berengar of Rennes, the previous lord of "Brittania Nova", which eventually became western Normandy. The third son of Gerlotte was Ansfrid the Dane, first Vicomte of the Hiemois, and father of Ansfrid the second (surnamed Goz) whose son another Turstain (Thurstan, or Toustain) Goz was a great favourite of the then Duke of Normandy, the father of William the Conqueror.
Thurstain accompanied Duke Robert to the middle east and was entrusted to bring back the relics the Duke had obtained from the Patriarch of Jerusalem to present to the Abbey of Cerisi - it is not clear whether any of these relics were later unknowingly sworn upon by Harold. Duke Robert died on the return trip and William became the Duke of Normany at age eight in 1035. Thurstain revolted against the young Duke William in 1041 and as a consequence was exiled, and his lands confiscated and given by the Duke to his mother, Herleve, wife of Herluin de Conteville. Richard Goz, Vicomte d'Avranches, or more properly of the Avranchin, was one of the sons of the revolting Thurstain, by his wife Judith de Montanolier, and appears not only to have avoided being implicated in the rebellion of his father, but obtained a pardon and restoration to the Vicomté of the Hiemois.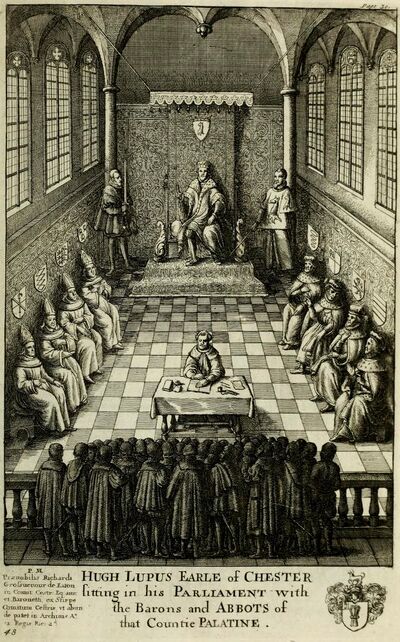 Richard strengthened his position at court by securing the hand of Emma de Conteville, who may have been one of the daughters of Herluin and Herleve, and therefore half-sister of Duke William. By this fortunate marriage (if it actually happened) Richard Goz not only recovered the lands forfeited by his father but also acquired much property in the Avranchin. Thus, while many early chronicles state that the later Earl Hugh was the nephew of William the Conqueror, this is at best only in part true as Hugh's mother (Emma) was said to be the child of Robert II's mistress (Herleve) by her later husband (Herluin). However other sources state that this daughter (William's half sister), was called Muriel, and married Guillaume, Seigneur de la Ferté-Macé. Given that Herleve and Herluin married around 1031, their daughter would have been a young bride when she produced their grandson Hugh (he was born in 1047).
Richard's son Hugh d'Avranches had in part bankrolled William's invasion of England (providing either 30 or 60 ships, depending on the source), and probably did not fight at Senlac Hill (called Hastings by some), but was trusted (apparently aged 19) to stay behind and govern Normandy.
Earl of Chester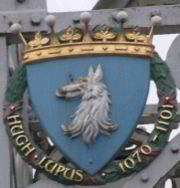 Initially, his holdings in England were limited to Tutbury Castle but with the convenient departure of Gherbod the Fleming were greatly extended. Hugh ended up with several manors and lands which ad belonged to the Anglo-Saxons and Northumbrians including: Allestrey, Kniveton, Mackworth and Mark-eaton (all in Derbyshire) from Siward of Northumbria (or Morcar his successor (after the unpopular Tostig)). Avranches also has several connections with the Wirral: see the wiki entry on Saughall Massie for another example.
Witing of the year 1072, Matthew of Westminster (who probably didn't exist) gets the story of Hugh completely wrong, confusing Hugh with Ranulf of Blundeville who he calls "Ranulph of Micenis":
In the same year, king William invaded Scotland with a great army, and Malcolm, king of Scotland, came peaceably to Berwick to meet him, and became his subject. At this time, count Ranulph of Micenis governed the earldom of Carlisle, who had given efficacious assistance to king William in his conquest of England. He began to build the city of Carlisle, and to strengthen the citizens with many privileges. But when king William was returning from Scotland through Cumberland, seeing so royal a city, he took it from count Ranulph, and gave him instead of it the earldom of Chester, which was endowed with many honours and privileges.
Tennant was of opinion that the Conqueror himself invested Lupus in the year 1069, for he was then in Chester repelling the Welsh and finally reducing Mercia. Camden makes it clear that Hugh's powers were very far reaching:
By Virtue of this Grant, Cheshire enjoyed all Sovereign Jurisdiction within its own precincts And that in so high a degree that the ancient Earls had Parliaments of their own. Barons and Tenants and were not obliged by the English Acts of Parliament. These high and otherwise unaccountable Jurisdictions were thought necessary upon the Marches and borders of the Kingdom as investing the governors of those provinces with Dictatorial Power and enabling them more effectually to subdue the common enemies of the Nation. And agreeable to these high powers when the style in all legal proceedings of the Courts at Westminster ran "Contra Coronam et Dignitatem Regis", in our County Palatine these pleas were constantly expressed "Contra Dignitatem Gladii Cestris".
Foote Gower/Thomas Falconer add:
This famous Sword of Dignity is still remaining in the British Museum. It is in length about four feet and so unweildy as to be brandimed with great difficulty by a very strong man with both his hands The blade is two edged and has this inscription immediately beneath the hilt Hugo Comes Cestris.
The sword does not appear to be on public display at the British Museum, and the length of the sword would seem to indicate that if it ever did exist it was a ceremonial rather than a practical weapon.
By 1075 and the subjugation of the Revolt of the Earls, the Conquest was completed. Hugh may have been involved with a plot hatched by William's scheming half-brother Bishop Odo in 1082. According to Orderic Vitalis, Odo had heard a prediction, by "certain sorcerers at Rome", that a prelate of his name would become pope - there being a conflict between Gregory VII and Henry IV at the time. Odo bought a palace in Rome and bribed "senators". He prepared to go there, in the company of "a goodly company of distinguished knights" and Earl Hugh of Chester. Vitalis remains unclear about the precise motivations of this expedition and the role of Hugh, but the Papacy does seem to have been 'up for grabs' at the time. King William heard of the plan and, sailing from Normandy, intercepted Odo in the Isle of Wight. Whatever was going on, Odo was imprisoned by William for years and was only released as William lay dying.
In 1094 Hugh assisted William in the defence of Normandy against the French king. As recorded in the AS Chronicle:
There was the King of France through cunning turned aside; and so afterwards all the army dispersed. In the midst of these things the King William sent after his brother Henry, who was in the castle at Damfront; but because he could not go through Normandy with security, he sent ships after him, and Hugh, Earl of Chester.
Earl Hugh created several hereditary baronies. His first barons were:
Eustace of Mold, Baron of Hawarden, Flint, Hereditary Steward;
William FitzNiel, Baron of Halton Hereditary Constable and Marshal, whose descendants took the name de Lacy and became Earls of Lincoln in 1232;
William Malbank, Baron of Nantwich;
Robert FitzHugh, Baron of Malpas, supposedly the illegitimate son of Earl Hugh (if this is true then he became a monk) - was succeeded in the Earl's lifetime by David le Clerk de Malpas, alias Egerton, ancestor of the Egerton Family;
Hamon de Massey, Baron of Dunham-Massey, owner of the manors of Agden, Baguley, Bowdon, Dunham, Hale and Little Bollington, taking over from the Saxon thegn Aelfward according to the Domesday Book;
Richard de Vernon, Baron of Shipbrook;
Gilbert de Venables, Baron of Kinderton.
War with the Welsh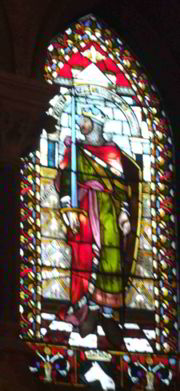 Hugh did have some misadventures in Wales with Gruffydd ap Cynan - who, despite having been imprisoned for some years at Chester Castle - outlived Hugh (who died in 1101) and lasted until 1137. However, wars with the welsh were only to be expected:
Hugh Lupus, Earl of Chester, and William Fitz Osborne, Earl of Hereford, all of whom were near relations to king William, were by him entrusted with the care and government of the western parts of the island, in order to secure them against the incursions and depredations of the Welsh, who frequently plundered these people, and were likely to be very troublesome, as were afterwards found to be by many of their descendants.
Gruffydd was raised in Ireland being of part Viking stock and appears in his first bid for the Welsh throne to have first sought the assistance of the Normans. Gruffudd landed in Angelsey in 1075 and then travelled to:
... the castle of Rhuddlan to Robert of Rhuddlan, a renowned, valiant baron of strength, a nephew of Hugh earl of Chester, and he besought him for help against his enemies who were in possession of his patrimony. And when Robert heard who he was, and for what he had come, and what his request was, he promised to support him. ('History of Gruffudd ap Cynan')
The alliance with the Norman did not last and soon everyone was fighting everyone else. Hugh fought one major battle at Abergely -
Hugh Lupus, on his march to invade the Isle of Anglesey, passing through the defile of Cevn Ogo, which is the narrowest pass on this part of the coast, was attacked by an armed band of Welshmen, which had been posted there to intercept his progress, and of which, after an obstinate and protracted battle, 1100 were left dead on the spot.
It has been said that at no place in Wales has more blood been shed than in the defile of Cevn Ogo - otherwise known as the "Field of Corpses". Harold II fought Grufydd ab Llewelyn, Prince of North Wales, on the plain near Cevn Ogo, and, after a sanguinary battle, was driven back to Rhuddlan. In the reign of Henry II, Owain Gwynedd fortified himself in this pass, where he gave battle to the forces of that monarch, and repulsed them with great slaughter. It is also said that near the same pass, Richard II was surrounded and conducted to Flint Castle, where he was treacherously betrayed. It is now a caravan park.
The Magic Stone
Gerald of Wales has the following to say about "Hugh" and Angelsey
"As many things within this island are worthy of remark, I shall not think it superfluous to make mention of some of them. There is a stone here resembling a human thigh, which possesses this innate virtue, that whatever distance it may be carried, it returns, of its own accord, the following night, as has often been experienced by the inhabitants. Hugh, earl of Chester, in the reign of king Henry I., having by force occupied this island and the adjacent country, heard of the miraculous power of this stone, and, for the purpose of trial, ordered it to be fastened, with strong iron chains, to one of a larger size, and to be thrown into the sea. On the following morning, however, according to custom, it was found in its original position, on which account the earl issued a public edict, that no one, from that time, should presume to move the stone from its place. A countryman, also, to try the powers of this stone, fastened it to his thigh, which immediately became putrid, and the stone returned to its original situation."
Of course the problem here is that the Hugh of King Henry's time is possibly not the same Hugh who invaded Wales with Shrewsbury (in 1098). In fact it is difficult to see who exactly Gerald means. Hugh was earl from from 1071-1101, and Henry I was king from 1100 until 1135, so either this even happened in the last year of the earls life or Gerald has his facts wrong. As for the later history of the stone it was identified by Walter Gill as the "Maen Morddwyd" ("The Thigh Stone"), built into the wall of the ruined church of St Nidan (now a private chapel) next to Llanidan House in south-western Anglesey. Thomas Pennant, who reported on a visit to the House in the 1770s, stated that Gerald's stone was built into the church. By 1849 the church was at least partly destroyed and it isn't entirely clear what happened to the stone. Gerald also gives a masked hint that the stone was a pagan relic:
Dicitur etiam quod si venereum opus in loco eodem vel prope fieri contigerit, sicut aliquoties probatum est, statim lapis guttis magnis desudabit. Similiter etiam si procacitatem ibidem vir et mulier exercuerint. Ex venere quoque ibidem expleta nunquam genitura provenit. Unde et ob hoc, casula deserta penitus qu' ibidem olim esse solebat, tantum muro lapideo fatalem hodie lapidem videas circuiri..(It is said also that if the "work of Venus" takes place in the same place or nearby it will happen, as is proved a number of times, at once the stone will sweat great drops. Similarly, in addition, if a man and woman practice acts leading to degradation in that very place. Out of the congress actually finished in that place, at no time has any one going to bear a child born one. From which, and on account of this, the small hut, deserted inside, which was formerly customarily there in that place, only by a fated/deadly wall of rock the stone you may see encircled.)
These pagan connections may explain why the antiquarian Henry Rowlands, who was the local vicar, never mentioned the stone. References to the rock as "shaped like a thigh-bone" may actually be something of a euphemism, and it is possible that Hugh was trying to wipe out some local non-Christian practices while in Anglesey.
What is more certain is that in 1088 Hugh took over lands in North Wales and rebuilt the castle at Rhuddlan where he based the somewhat over zealous cousin..
Robert of Rhuddlan, who, in 1088, encamped a considerable army near its walls. In the same year, Grufydd ab Cynan is said to have entered the Conway with three ships, and, landing under the castle at high water, to have left his vessels on shore at the recess of the tide, and proceeded to ravage the neighbouring country. Returning from his predatory incursion, and driving before him a large booty of men and cattle towards his ships, Robert, who witnessed the spectacle with indignation, descended from his fortress, attended only by a single soldier, and without any defensive armour but his shield. The Welsh attacked him with missiles, and, having filled his shield so full of darts that it fell under the weight, rushed upon him in a body, and striking off his head, fastened it to the mast of one of their ships, and sailed away in triumph.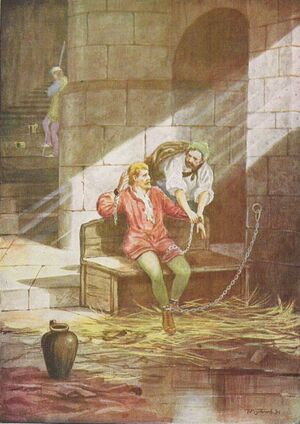 Gruffydd was captured in 1081 (as noted, there is a conflict of dates here! - some place the death of Robert at Deganwy in 1093 - which makes more sense) when he was enticed to a meeting with Hugh Earl of Chester and Earl of Shrewsbury (probably Roger) at Rug, near Corwen. According to his biographer this was by the treachery of one of his own men, Meirion Goch. Gruffydd was imprisoned at Chester Castle for many years (some say ten, others 12, others 16):
... put him in the gaol of Chester, the worst of prisons, with shackles upon him, for twelve years (History of Gruffudd ap Cynan)
And straightway after he had been captured, Earl Hugh came to his territory with a multitude of forces, and built castles and strongholds after the manner of the French, and became lord over the land (History of Gruffudd ap Cynan)
In his effort to consolidate control over Gwynedd, Earl Hugh of Chester forced the election of Hervé the Breton upon the Bangor diocese in 1092, with Hervé's consecration as Bishop of Bangor performed by Thomas of Bayeux, then Archbishop of York. It was hoped that placing a prelate loyal to the Normans over the traditionally independent Welsh Church would help pacify the local inhabitants. However, the Welsh parishioners would have none of it and remained hostile to Hervé's appointment. The Norman bishop was forced to carry a sword with him and rely on a contingent of Norman knights for his protection. Hervé did not help matters by routinely excommunicating parishioners who he perceived as challenging his spiritual and temporal authority. The Liber Eliensis described the situation as follows:
"Since they [the Welsh] did not show the respect and reverence due to a bishop, he [Hervey] wielded the sharp two-edged sword to subdue them, constraining them both with repeated excommunications and with the host of his kinsmen and other followers. They resisted him nonetheless and pressed him with such dangers that they killed his brother and intended to deal with him the same way, if they could lay hands on him."
Revolt in Wales
Hugh lost Anglesey and much of the rest of Gwynedd in the Welsh revolt of 1094, led by Gruffydd ap Cynan, who had escaped from captivity at Chester. By late 1095 the uprising had spread to many parts of Wales. This induced the then king William II of England (William Rufus) to intervene, invading northern Wales in 1095. However his army was unable to bring the Welsh to battle and returned to Chester without having achieved very much. Once again, his campaign seems to have been noted for it's violence:
Hugh Lupus, Earl of Chester, while carrying on his desolating warfare against the Welsh, landed his forces at Cadnant, in the parish, in 1096, and, having encamped on the summit of an eminence called Dinas, at the upper extremity of the vale, commenced a series of devastations, which were characterized by the most barbarous and atrocious outrages.
Just why he should camp at "Dinas" in 1096 on first glance presents something of a mystery as Hugh would appear to have had a perfectly good castle at Aberlleiniog established in 1088. However, the castle was captured and burnt to the ground by when Gruffydd escaped imprisonment at Chester. The present stone-built castle was constructed by a colourful 17th century character called Thomas Cheadle. Following a long feud Cheadle's son was tried for murder, found guilty and executed by public hanging in Chester (others say at Conwy).
Prisoners taken by the Earls of Chester and Shrewsbury, were apparently executed at Cae Grogi, or Marian Crogwydd, a field situated about three quarters of a mile westward from Penmon Priory. Local legend held that two holes sunk in the limestone rock, still visible until recently, were the slots made to hold the gallows. Hugh stood loyally by William Rufus in the rebellion of 1096 - and was perhaps a little over zealous as he was charged, with having barbarously blinded and mutilated his brother-in-law, William Comte d'Eu, who had been taken prisoner in the uprising. King Willam mounted a second invasion of Wales in 1097, but again without much success.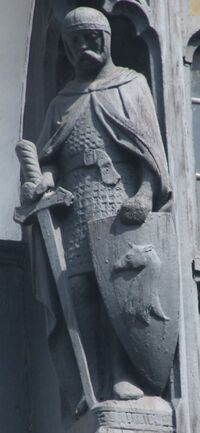 A possible side effect of these attempts to conquer north Wales was the transfer of the north-west Mercian see in 1075 from Lichfield to St Johns, Chester. One possible reason for the move was that the new Norman bishop, Peter, may have seen prospects for diocesan expansion in north Wales (there was then no neighbouring bishop at St. Asaph and Peter may have felt that if large territories in north-east Wales were to come under his jurisdiction, Chester would be a more central base than Lichfield. However, in 1098, the next Norman attempt to conquer north Wales suffered a severe setback. Florence of Worcester records that, in 1098, Hugh of Chester and Hugh de Montgommery Earl of Shrewsbury led troops into Anglesey and their furious 'victory celebrations' which followed were exceptionally violent, with rape and carnage committed by the Norman army left unchecked. The earl of Shrewsbury had an elderly priest mutilated, and "made the church of Llandyfrydog a kennel for his dogs". Gerald tells the story of what happened next, in 1098 (the church he mentions is probably St Tyfrydog Church in Llandyfrydog):
There is also in this island the church of St. Tefredaucus, into which Hugh, earl of Shrewsbury, (who, together with the earl of Chester, had forcibly entered Anglesey), on a certain night put some dogs, which on the following morning were found mad, and he himself died within a month; for some pirates, from the Orcades, having entered the port of the island in their long vessels, the earl, apprised of their approach, boldly met them, rushing into the sea upon a spirited horse. The commander of the expedition, Magnus, standing on the prow of the foremost ship, aimed an arrow at him; and, although the earl was completely equipped in a coat of mail, and guarded in every part of his body except his eyes, the unlucky weapon struck his right eye, and, entering his brain, he fell a lifeless corpse into the sea. The victor, seeing him in this state, proudly and exultingly exclaimed, in the Danish tongue, "Leit loup," let him leap; and from this time the power of the English ceased in Anglesey.
Here Gerald refers to the military campaign in the summer of 1098 when Earl Hugh joined with Hugh of Montgomery (2nd Earl of Shrewsbury) in an attempt to recover his losses in Gwynedd. Gruffydd ap Cynan had retreated to Anglesey, but then was forced to flee to Ireland when a fleet he had hired from the Danish settlement in Ireland changed sides. The "Pirates" were a Norwegian fleet under the command of King Magnus III of Norway, also known as "Magnus Barefoot", who attacked the Norman forces near the eastern end of the Menai Straits. With Magnus was Harold Haraldson - said to be the postumous son of Harold Godwinson, who was born at Chester around December 1066. Hugh of Shrewsbury was killed by an arrow (said to have been shot by Magnus himself). The Saga of Magnus Barefoot actually mentions "Hugh the Stout":
Afterwards King Magnus sailed to Wales; and when he came to the sound of Anglesey there came against him an army from Wales, which was led by two earls -- Hugo the brave, and Hugo the Stout. They began immediately to give battle, and there was a severe conflict. King Magnus shot with the bow; but Huge the Brave was all over in armour, so that nothing was bare about him excepting one eye. King Magnus let fly an arrow at him, as also did a Halogaland man who was beside the king. They both shot at once. The one shaft hit the nose-screen of the helmet, which was bent by it to one side, and the other arrow hit the earl's eye, and went through his head; and that was found to be the king's.
The Normans were thus obliged to evacuate Anglesey, and the following year (1099) Gruffydd ap Cynan returned from Ireland to take possession again. Hugh apparently made an agreement with Gruffydd and did not again try to recover these lands, which makes it difficult to see how Hugh could have been in Angelsey during the reign of Henry I.
Before his death in 1101, Hugh had made a huge fortune from his position as the Earl of Chester and also became so fat that he could hardly walk (he was known in later life as "Hugh the Fat"). Orderic Vitalis states that Hugh was "a slave to gluttony, he staggered under a mountain of fat" and was "given over to carnal lusts and had a numerous progeny of sons and daughters by his concubines". The Welsh called him Hugh Flaidd (Hugh the Wolf or Hugh Lupus) and a wolf's head appears on his arms. In an 1086 engraving of the coat of arms the artist has gave the head of the wolf a wide grin, which might be mistaken for that of a cat - this has been suggested as the origin of the Cheshire Cat. As regards Hugh, Hemingway quotes the following:
He was, "saith Ordericus, not only liberal, but profuse; he did not carry a family with him, but an army. He kept no account of receipts or disbursements. He was perpetually wasting his estates; and was much fonder of falconers and huntsmen, than of cultivators of land, and holy men , and by his gluttony he grew so excessively fat, that he could hardly crawl about.
Besides Chester castle, a further castle was build at Frodsham although nothing of this now remains. Another castle was built at Shotwick and again little remains to be seen today. Hugh is also credited with the construction of Aberlleiniog Castle, on Angelsey.
Asyla
Earl Hugh established three "asyla" in Cheshire. These were at Hoole Heath near Chester, Overmarsh near Farndon and Rud Heath near Middlewich. These were places to which a felon from any place in the country (or Wales) could flee and seek the protection of the Earl. The sanctuary at Hoole Heath may well be the reason for the bad reputation of Newton Hollows attributed to Lucian the Monk. Hemingway describes them as follows:
These sanctuaries were the source of much emolument to the earls, who received fines from all such persons when they came to reside under their protection a heriot at their death and in case of their dying without issue claimed their goods and chattels.
Thus we see that the tale of criminals being free if they escaped the "hue and cry" and reached Chester is only partly true. Much later, in the times of Edward II, they were described as follows:
By an inquisition taken before Hugh de Audelith Justice of Chester on Sunday after the feast of St Peter ad Vincula it was found That a certain large piece of Waste called Overmarsh was in ancient times ordained for strangers of what country soever and assigned to such as came to the peace of the Earl of Chester or to his aid resorting there to form dwellings but without building any fixed houses by the means of nails or pins save only booths and tents to live in.
In in the reign of Edward III:
The jury declare upon their oaths that the Moor which is called Rudheath was formerly a waste place very anciently assigned and set apart by some of the old Earls of Chester for the reception not of their own subjects but of all fugitive strangers coming to the aid of the Earl's peace either from England or from any other countries And there is an inquisition of the same tenor relative to the other of Hoole Heath.
Hugh is also supposed to be the origin of a rule that during fairs held in the city no felon could be arrested except for crimes committed at the fair - although this may be a myth. The beginning and end of the fairs was indicated by the suspension and removal of a glove on the south side of St Peter's church (see Gloverstone).
Hugh and the Abbey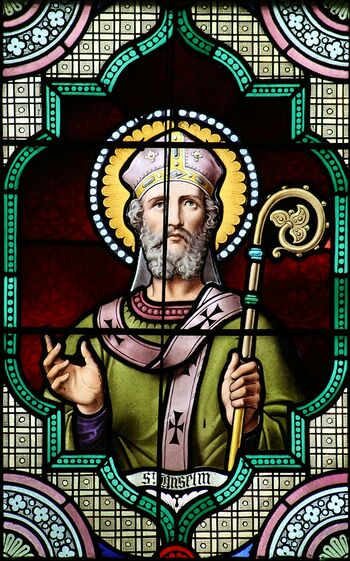 In 1092, af Hugh's third invitation Anselm of Bec came from France to England to found the Benedictine Abbey at Chester, which would later become the Cathedral. Alselm had spent some time in Avranches in 1060 before entering the abbey of Bec as a novice - and it is possible that he met Hugh then. The Chester Annales record the foundation thus:
In hoc anno venit dompnus Anselmus abbas Ecclesiæ Beccensis Angliam qui sepius ante venerat in Angliam, veniens itaque tunc Angliam Anselmus a multis acclamatus archiepiscopus, quitanti honoris onus humiliter fugiens, rogatu nobilis principis, comitis Hugonis Cestriam venit, ibique abbatiam in honorem Sanctæ Werburgæ fundavit, et monachis ibidem congregatis Ricardum monachum Beccensem primum abbatem instituit. Quo facto, in eodem anno in reditu suo a Cestria, archiepiscopus Cantuariensis factus est. (1093 In this year the lord Anselm, abbot of the church of Bec, came to England, who before this had frequently been in England. On his coming to England this last time, Anselm was acclaimed by many as archbishop, but, humbly desiring to escape the burden of so great an honour, on the invitation of the noble prince, earl Hugh, he came to Chester, and there founded the abbey in honour of S. Werburg, and, having assembled the monks together, he appointed Richard, a monk of Bec, the first abbot. Having done this, in the same year, upon his return from Chester, he was made archbishop of Canterbury.)
In reality the situation was rather more complex. When about to return to Bec, Anselm was refused permission by the then king (William Rufus) but the following year, when the king fell ill (and believed himself dying) Anselm was nominated to the then vacant see of Canterbury. The reluctant Anselm was finally consecrated as Archbishop of Canterbury in 1093 (this was a disaster for William as the two did not get on). From an early period the monks of St. Werburgh's claimed that Earl Hugh I had granted them the right to hold a fair on the three days around the feast of St. Werburg's translation on 21 June. Robert of Torigny's De Immutatione Ordinis Monachorum records that "Hugo vicecomitis Abrincatensis postea…comes Cestrensis" also founded "abbatiam Sancti Severi in Constantinensi episcopatu" - Saint-Sever in Normandy. Although it has been suggested that Hugh became a monk at St Werburg in Chester, four days before he died (1101), the Chester Annales simply records his death:
Defuncto Hugone comite cestrensi principe nobili. Ricardus puer vij annorum comitatum suscepit (1101 The noble prince Hugh, earl of Chester, being dead, Richard, a boy of seven years of age, inherited the earldom.)
There is a "slight" problem with the charter of Abbey, which like many such documents goes to great lengths to ensure that the grant is perpetual and cannot be reversed later. The charter ends:
"Et ut hc omnia essent rata et stabilia in perpetuum, ego Come Hugo et mei Barones confirmavim us (&c.), ita quod singuli nostrum propria manu, in testimonium posteris signum in modum Cruc is facerunt:"
..and is signed by the earl himself; Richard of Avranches (his son); Hervey, bishop of Bangor ; Ranulf de Meschines (his nephew, who eventually inherited the earldom); Roger Bigod; Alan de Perci; William Constabular (William FitzNeil - Baron of Halton); Ranulph Dapifer; William Malbanc (Baron of Nantwich}; Robert FitzHugh (Baron of Malpas); Hugh FitzNorman; Hamo de Masci (Baron of Dunham-Massey); and Bigod de Loges. The little problem is that the charter cannot date from 1093 and be signed by Richard of Avranches (who was only seven years old in 1101). This problem is solved if the charter is dated later than 1093 and merely confirms the earlier grant - but then the problem arises that Robert FitzHugh may have been dead by then. However it should be remembered that mediaeval monks were known to fake charters at times.
Children
He married Ermentrude of Claremont, by whom he had one son, Richard of Avranches, who succeeded him. Richard married Lucia-Mahaut of Blois, daughter of Stephen Count of Blois and sister of another Stephen of Blois (the future King Stephen). Richard's mother in law was Adela, a daughter of William the Conqueror and hence sister to both William Rufus and Henry I. Both Hugh's son Richard and Richard's wife died in the White Ship disaster (1120). Earl Hugh had three [known] illegitimate children by unknown mistresses:
Otuel: also drowned with the loss of the White Ship (25 Nov 1120) - a note in the text of Florence of Worcester names "Ricardus comes Cestrensis, Otthuel frater eius" among those drowned in the sinking of the White Ship. He was tutor to the children of Henry I King of England.
Robert: recorded as the son of Hugh Earl of Chester by Orderic Vitalis, he became a monk at the abbey of Saint-Evroul, Normandy. He was appointed Abbot of Bury St Edmunds, Suffolk in 1100 by Henry I King of England, but deposed in 1102 by Anselm Archbishop of Canterbury at the Council of London.
Geva, who married Geofrey Riddell of Drayton Basset in Staffordshire. "Geva, filia Hugonis comitis Cestriæ, uxor Galfridi Ridelli" founded Canwell priory, with the consent of "Ranulfi comitis Cestriæ cognate mei…hæredum meorum… Gaufridi Ridelli et Radulfi Basset", by undated charter. Orderic Vitalis records that she also drowned in the sinking of the White Ship.
Exhumed
In 1724 the remains of Hugh Lupus were "discovered" in Chester Cathedral, wrapped in leather, and deposited in a stone coffin, having a cross on the breast. They were re-buried with the following terrible verse:
Altho my corpse it lies in grave
And that my flesh consumed be,
My picture here, now that you have
An Earl some time of this city
The 'Other' Hugh Lupus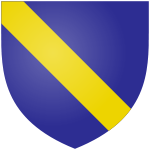 Hugh Lupus Grosvenor, 1st Duke of Westminster KG (13 October 1825 – 22 December 1899) was the son of Richard Grosvenor, 2nd Marquess of Westminster and Lady Elizabeth Mary Leveson-Gower. He was created Duke of Westminster on 27 February 1874, the most recent person neither born into nor related by marriage to the British Royal Family to be advanced to the highest degree of the peerage. He had succeeded as 3rd Marquess of Westminster and 4th Earl Grosvenor in 1869. By the time of his elevation the family's London property in Mayfair, Belgravia and Pimlico had made it the richest family in the United Kingdom. He had his main country seat, Eaton Hall in Cheshire, reconstructed at enormous expense. He was one of the most successful British race horse owners of all time - the character "Colonel Ross" in Sir Arthur Conan Doyle's short story Silver Blaze is believed to be based on Hugh Grosvenor.
The Grosvenor family crest is now a variation on a blue shield with a golden sheaf (garb) of corn on it (in proper heraldic terms that is 'azure, a garb or'). However an earlier heraldic device used by the family was 'a shield blazoned Azure, a Bend Or' (that is a blue shield with a yellow (gold) diagonal stripe).
Unfortunately, in 1385, while Richard II of England was busy invading Scotland two of his knights realized that they were using the same coat of arms. Sir Richard Scrope from Bolton in Yorkshire (and Chancellor of the Exchequer) and Sir Robert Grosvenor from Cheshire were both bearing blue shields with the gold stripe. Scrope brought an action (Scrope v. Grosvenor (1389)), and Grosvenor maintained his ancestor had come to England with William the Conqueror bearing these arms. The case was brought before a military court and presided over by the constable of England - and the first sitting of the Court of Chivalry in the which decided the Scrope/Grosvenor Armorial Bearings was held at St Johns Church. Several hundred witnesses were heard and these included John of Gaunt, King of Castile and Duke of Lancaster, Geoffrey Chaucer and a then largely unknown Welshman called Owain Glyndŵr. The witnesses for Grosvenor stated that:
..it was generally reputed in the counties bordering on North Wales that his ancestors had borne the arms azure a bend or from the time of Sir Gilbert de Grosvenor a follower of Hugh Lupus Earl of Chester who was nephew to the Conqueror and that the said arms were to be seen in windows and on tombstones in several churches of Cheshire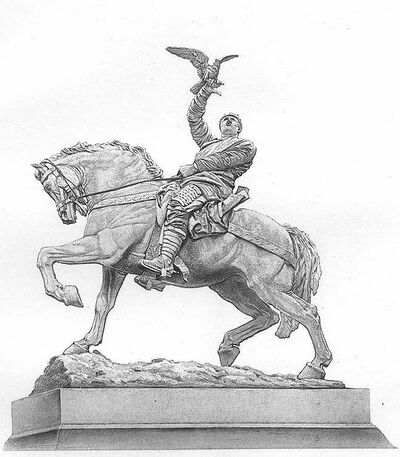 The Abbot of the Cistercian Abbey Vale Royal spoke still more positively to the pedigree and arms of Grosvenor saying expressly:
..that he has it from chronicles and ancient writings in his monastery that Sir Robert Grosvenor descended in direct line from Gilbert le Grosvenor who in the train of his uncle Hugh Lupus came over with the Conqueror armed in the said arms which he used to the time of his death
In 1389 the case was finally decided in Scrope's favor - but Grosvenor was allowed to continue bearing the arms within a silver border. Neither party was happy with the decision, and in 1390 Richard II decided these shields were too similar for unrelated families in the same country to bear. Grosvenor switched to the blue shield with the golden sheaf of corn.
The sheaf of corn is interesting, because it first appears in English heraldry on the arms of Hugh de Kevelioc a later Earl of Chester who was infamous for revolting against the king, and was also used by his son Ranulf de Blondeville (a rather more noble knight). There is a very poor representation of the original earl Hugh's arms in Ormerod's history, and it is possible that this was mistaken for a sheaf of corn (when actually it is a wolf's head).
There is another interesting connection between the Grosvenors and the Earls of Chester. The Forests of Mara and Mondrem together formed one of the three hunting forests of the Earls of Chester, the others being the Forests of Macclesfield and Wirral. It was created by Hugh d'Avranches, a keen huntsman, soon after he became Earl of Chester, although the area might have been an Anglo-Saxon hunting forest before the Norman Conquest. "Forest", in this context, means an area outside the common law and subject to forest law; it does not imply that the area was entirely wooded, and the land remained largely in private ownership. Hugh de Kevelioc is said to have granted his manor of Budworth together with a half share interest in the forestership of Mara (which included Delamere Forest) to Robert Grosvenor at some time in the 1150s. The bounds of Grosvenor's bailiwick were described in 1361 as being:
'from Stanford Bridge along the King's highway as far as Northwich, thence following the bounds of the forest as far as the Darley Brook, and thence following the Darley Brook as far as the bounds of Rushton, and then following the bounds of Rushton and Olton as far as Yemelegh Mill and from the mill following the bounds between Eaton and Alpraham as far as the town of Tarporley and then following the bounds of the said forest as far as Stanford Bridge'.
Being born in 1147, Hugh de Kevelioc would have been a minor at the time and one wonders just how real the grant of the forestership was!
Robert Grosvenor's claim to a family link to the Original Hugh Lupus has been the subject of much debate. There are several problems with the claim, not least of which being that given the young age of the original Hugh Lupus at the time of the Norman Conquest nephew "Gilbert" (who seems to be mentioned nowhere else) would have had to be remarkably young at the time of the invasion and it is surprising that this is not recorded. The name "Venour" does turn up in the records at Battle Abbey and this has been suggested as a possible indication that "Gilbert (gros) Venour" (Gilbert the fat hunter) might have existed - although it is unlikely he was Hugh's nephew. Whatever the truth, by 1825 the Grosvenor's decided it was time to name a member of the family after their supposed "ancestor".
Curiously, claiming ancestry to the Norman Earls of Chester was not a new thing amonst the Cheshire gentry. The same had been tried by the Mainwarings. The Mainwaring's argument was that Hugh de Kevelioc had a younger daughter by a first wife prior to the four sisters of Ranulf de Blondeville. It was through these sisters that various royal lineages passed, so what Mainwaring was effectively doing was giving himself a semi-royal pedigree, in much the same way that Hugh de Kevelioc may have tried to do, possibly by creating the legends of Harold and Emperor Henry's survival. Grosvenor simply hopped back to an earlier Earl to claim an even "better" pedigree.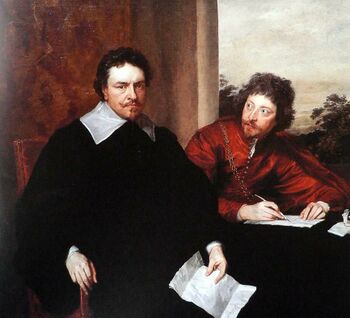 Sources and Links
D. Crook (1991). "Central England and the Revolt of the Earls". Historical Research. 64:403-10;
Mike Ibeji, Treachery of the Earls, by Mike Ibeji, from "BBC History of the Normans";
Edward Augustus Freeman (1901). A Short History of the Norman Conquest of England. Page 113-114;
Simon Evans (1990). A Mediaeval Prince of Wales: the Life of Gruffudd Ap Cynan. Llanerch Enterprises. ISBN 0-947992-58-8.;
K.L. Maund (ed) (1996). Gruffudd ap Cynan : a collaborative biography. Boydell Press. ISBN 0-85115-389-5;
Kari Maund (ed) (2006). The Welsh kings: warriors, warlords and princes. Tempus. ISBN 0-7524-2973-6;
Paul Russell (ed) (2006). Vita Griffini Filii Conani: The Medieval Latin Life of Gruffudd Ap Cynan. University of Wales Press. ISBN 0-7083-1893-2;
Other Links
These are only a small selection of the many references to Hugh on the WWW. Please note that the information on the internet (including on the ChesterWiki site!) may not be accurate (especially on sites about people's supposed ancestors!)