Handbridge
From Chesterwiki
Jump to navigation
Jump to search
Overview
A Brief History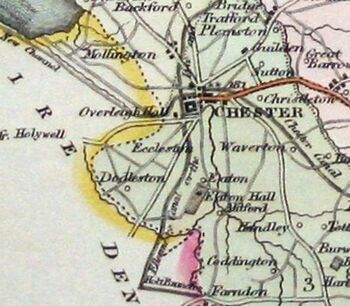 Before the Victorian era the suburb itself was considered a poor area, with one contemporary commentator, Joseph Hemingway, describing the area as:
"almost exclusively inhabited by the lower orders"
The population were primarily industrial workers who worked in the many factories that surrounded Chester, including the tobacco works on the Dee banks, and the neighbouring area of Saltney.
The development of Queen's Park changed the nature of Handbridge. The Suspension Bridge was originally built in 1852 at the instigation of Enoch Gerrard, Esq., the "projector and proprietor" of Queen's Park, the developing suburb south of the River Dee.
Links