On Thursday, approximately 10AM UTC, we'll be performing our MediaWiki 1.34 deployment. Please expect some downtime, we apologise in advance for any inconvenience!
Grosvenor Park Road
From Chesterwiki
Jump to navigation
Jump to search
This road leads south from Foregate Street to the main entrance of Grosvenor Park.
East Side
The row of six town houses to the east were built in 1872 by John Douglas as architect, developer and landlord. In Ruabon red brick they have some plaster panels and terracotta and a red-brown clay tile roof. A varied but disciplined rhythm in Douglas's Germanic manner, flanked like his adjoining Zion Chapel by spired octagonal turrets. The chapel was built in 1879–80 to a design by John Douglas. It was originally a Baptist chapel. It is built in red brick with stone dressings and the roof is of red-brown clay tiles. It consists of an undercroft, a church and ancillary rooms.
The houses were highly praised by Raffles Davison, noted by Muthesius and acclaimed by the Chester Archaeological Society as distinguished townscape between the then recently constructed City Road from the railway station and the then five-year-old Grosvenor Park where Edward Kemp was designer and Douglas architect.
St Werburgh's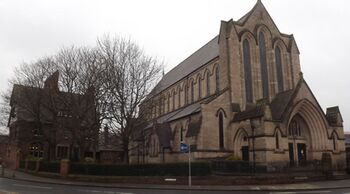 A Roman Catholic Church of St Werburgh was opened in Queen Street, in 1799. Until the 1750s there was no permanently resident Roman Catholic priest in Chester, masses being said either by a gentleman's chaplain, typically from Hooton Hall in Wirral or the Fitzherberts' house. From 1758, however, an almost continuous series of settled priests can be traced. In 1799 the congregation built and registered a chapel on the west side of Queen Street. It was largely paid for by the Irish merchants who headed the list of those for whom perpetual masses were afterwards said. They were very likely men who frequented Chester on business (probably the linen trade) rather than permanent residents.
By the 1860s the Catholic population had outgrown the late-eighteenth century chapel, and a site for a new and larger church was offered near Grosvenor Park by the brothers Michael and John Harnett. Plans were drawn up by Edmund Kirby and the foundation stone laid by Bishop Brown on 15 October 1873. The church was ready for use by the end of 1875, and was solemnly opened by Bishop O'Reilly of Liverpool on 13 July 1876. Much of the cost of the church, and the adjoining presbytery, was met by members of the Harnett family. An intended tower and spire. aligned with City Road, were never built, but the church nevertheless makes a prominent and worthy contribution to the city centre conservation area. The picturesque contemporary presbytery is also by Kirby. The high, uninterrupted interior volume of the church is most impressive and despite a major reordering in the early twenty-first century, a number of internal features of note remain.
The main entrance doors at the west end lead into a narthex, added from Kirby's designs in 1913-14 (there is a foundation stone with the date 3 August 1913). The narthex contains good Arts and Crafts stained glass windows of 1936 by Trena M. Cox (1895-1977), including one commemorating the beatification of John Plessington, who was arrested and executed in Chester as a consequence of Titus Oates' Popish Plot. There is also a plaque to St John Plessington in the narthex. The main space consists of a nave and aisles of four bays and an apsidal sanctuary with flanking chapels. The nave arcade has alternating round and octagonal sandstone pillars with foliate capitals. Above is a boarded wagon roof with trusses having stop-chamfered ties and octagonal posts. There is a cusped arch sanctuary truss with timber tracery, from which hangs a large crucifix marking the holy year of 1933 (1900 years since the Crucifixion). The sanctuary roof has a light timber ribbed vault following the apsidal form of the east end and tall lancet windows. There are also tall lancets at the west end, and shorter lancets in the aisles and clerestory (where they are paired).