Farndon
From Chesterwiki
Jump to navigation
Jump to search
Overview
Farndon lies on the English border with Wales. Across the bridge, over the River Dee which marks the border, is the Welsh village of Holt. It was here, in 1643, that 'grenados' were used during the 'English' Civil War (against the Welsh). This was possibly the first use of grenades in the UK.
Farndon ward lies in the rural south-west of Chester district and is made up of the parishes of Churton-by-Aldford, Churton-by-Farndon, Crewe-by-Farndon, Edgerley, Farndon, and King's Marsh.
These days, Farndon is probably most famous for being the home of Paul Burrell, former butler to the late Princess Diana. He owns a florist shop in the village and is rumoured to drink in The Farndon (unkindly renamed from 'The Farndon Arms' and previously 'The Raven').
A Brief History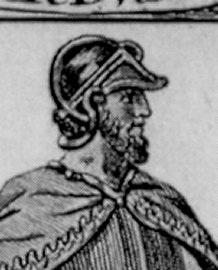 Farndon was possibly an important pre-historic site. There is an early Neolithic 'mortuary enclosure' discovered by aerial photography, and a circular feature which has tentatively been identified as a 'hengiform' monument - the latter possibly dates from 3100 to c 2400 BC. Stone-age burial customs are not well understood, but there may have been a practice see 'excarnation' of allowing bodies to decompose to skeletal remains which were then moved back to a place nearer to the home of the deceased. The English name is reported to mean "Fern Hill", and has been given as Fearndune, Farndune, Ferentone, Ferendon, Faryngdon, and Ferneton, amongst other variations, since its first mention in 924AD.
Sandstone caves in the area include that which housed 'Mad John' Harris, the hairy hermit of Harthill.
Poulton Timber Henge was rebuilt!
Edward the Elder, son of King Alfred and brother of Ethelfleda (Æðelflǣd - who has links with Chester Castle), died in battle here, on 17 July 924 (William of Malmesbury records a Mercian revolt that year at Chester, which Edward was busy putting down). Edward's body was removed for burial elsewhere.
Thomas Pennant, in his book Tours in Wales (1874), (citing a MS communicated by the Reverend Mr Price, Keeper of the Bodleian Library), states that the nephews of Defydd ap Gruffydd were 'drowned in the River Dee' at Holt Bridge by their guardians, John de Warenne, Earl of Surrey, and Roger Mortimer the younger. This, and perhaps a double drowning recorded on graves at Farndon (St Chad's) churchyard, possibly led to various legends about the 'Bridge of Screams'.
John Speed, the famous Cartographer (and author of an early map of Chester} was born in Farndon.
Links