On Thursday, approximately 10AM UTC, we'll be performing our MediaWiki 1.34 deployment. Please expect some downtime, we apologise in advance for any inconvenience!
Edwards
From Chesterwiki
Jump to navigation
Jump to search
Life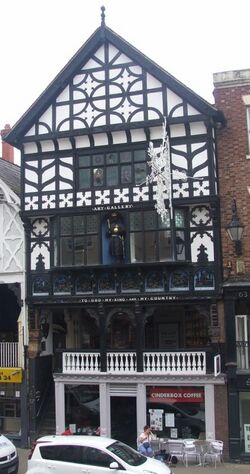 It isn't clear whether Edwards was a joker, satirist or ouitright con-man in his approach to design. Thomas Edwards developed the black and white style of the Vernacular Revival with what can only be described as "enthusiasm". Together with his partner W H Kelly, Edwards took over James Harrison's practice on his early death in 1866 and Edwards and Kelly were responsible for completing some of James Harrison's unfinished projects.
Edwards was responsible for 55 Bridge Street, built as an art gallery for David Sherratt in 1899. It has an exuberant "Tudor" facade, incorporating jettying, carved timber panels in the manner of Bishop Lloyd's House, and a statue of Charles I (which would not have survived the post-Tudor Civil War). Another of his "jokes" in Park Street (with a jettied bressumer inscribed "THE FEAR OF THE LORD IS A FOUNTAIN OF LIFE") seems to be based on a coin-find of a silver shilling of Edward VI.
Works in Chester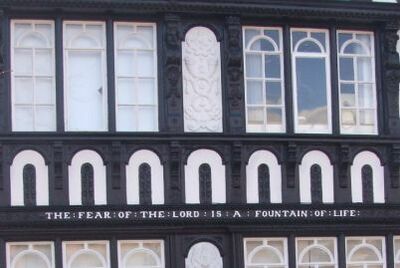 1860's
1866 - James Harrison dies aged 52 (later works completed by Edwards and Kelly);
1868 - Chester Drill Hall, Albion Street;
1870s
1880s
1890s
Links & Sources