Dudman
From Chesterwiki
Jump to navigation
Jump to search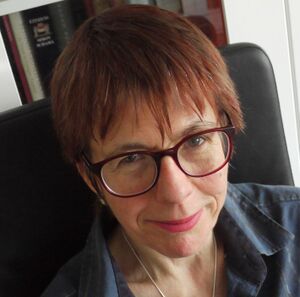 Life
From the authors website:
Clare Dudman was born in Wrexham, North Wales and educated at Leicestershire comprehensive schools, the University of Durham and King's College London. She has a PhD in Chemistry and has worked as a postdoctoral Research Associate in UMIST, a development scientist in industry, a science teacher, a lecturer and as a creative writing tutor for the WEA and the MA in creative writing at University College Chester. She is a member of the Welsh Academy. She is now an editor with the Writers Workshop and also frequently gives talks about her research, writes articles for websites, magazines and newspapers and generally spends far too much time updating her blog 'Keeper of the Snails'.
She has lived in Chester for many years.
Works
Ms Dudman is mostly an award-winning novelist, but her book on Chester is a gem. It explores the streets within the walls (all of them from Abbey Street to The Yonne). While this is a "written to order" part of a national franchise, it does benefit from the author's long association with Chester. She is also the author of a fairly unique book on Alfred Wegener an early proponent of continental drift and therefore falls into the rather select club of female writers on the polar regions, together with Susan Solomon ("The Coldest March"), Bea Uusma ("The Expedition"), Sara Wheeler ("Cherry"), Jennifer Niven ("The Ice Master"), Louise Boyd and very few others. These female authors share a common theme that the men they write about go out and don't come back.
Sources and links