Burt
From Chesterwiki
Jump to navigation
Jump to search
Life
Albin R Burt (1 December 1783 - 1 March 1842) was a profile miniaturist, who also painted silhouettes.
Burt's parents, Harry Burt and Mary Roberts, were related to and friendly with Lady Hamilton and Lord Nelson. Therefore many of Burt's sitters were members of the gentry or otherwise notable figures of his day. Trained as an engraver, trade label evidence suggests Burt was a prolific silhouettist, though few pieces survive today.
Born on December of 1783, we have no verifiable date as to when Burt started work as a silhouettist. The earliest date on any of Burt's extant silhouette pieces is 1807. He married a Sarah Jones in 1810 and the couple had eight children. Burt trained primarily as an engraver and his work was exhibited twice at the Royal Academy, in 1807 and 1830 – both portraits. However, engraving was far from his sole trade. The one trade label discovered boasts of his having painted over 4,000 profile miniatures. Also mentioned is a "New invented machine by which the most accurate likeness can be taken...". He worked in a large number of towns and cities in England including Worcester, London, Birmingham and Oxford. He married and had eight children. He died in Reading.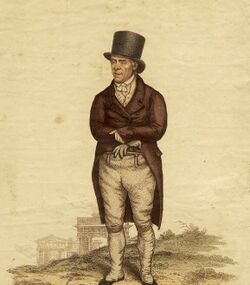 His connection with Chester is that in about 1815 he had rooms with James Hunter (1752-1826), at the end of what is now Hunter Street.
Works
Although little of his profile work is verified, he appears therefore to have been very prolific. The examples which do survive are typically of members of the gentry, reflective of his family's high social status.
His "local" works include portraits of Sir Watkin Williams Wynn (mayor of Chester in 1813), Thomas Harrison and James Hunter. A silhouette portrait (RIBA20866: dated 1830) of Thomas Harrison (1744-1829) has been attributed to Burt - the inscription credits Harrison as the architect of Chester Castle portico and the Grosvenor Bridge.
Sources and Links