Blacon
From Chesterwiki
Jump to navigation
Jump to search
Overview
Blacon is situated adjacent to the Welsh border and is located on a hill, one mile to the north-west of, and overlooking Chester. The village is built on what was previously farming land and is surrounded by open countryside. Blacon has views across to the city centre of Chester and to the Welsh hills some twenty miles to the west. Other nearby places include Saughall to the north, Newtown, Chester to the north-east, Upton and to the east, the village of Mollington.
A Brief History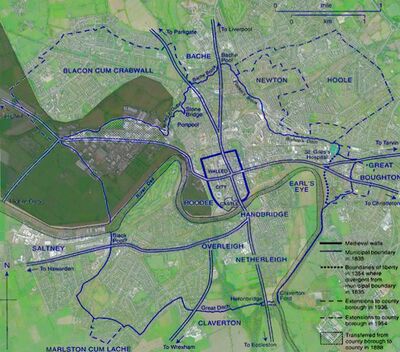 In recent years, Blacon has had its problems. It has gained a reputation as a deprived social-housing estate, but on the other hand a significant effort has been made to improve the area, with some positive results. It was not always like that.
Blacon Point was originally an area of high ground around which the River Dee curved before reaching the port of Chester. As a result of the silting of the Dee, the area below Blacon Point became land rather than water and is generally referred to as Sealand. This silting may have been caused by deforestation around the upper reaches of the Dee, leading to increased soil erosion and transport of silt by the river.
The large social housing estate was built between 1948 and 1968 and covers an area of 1.2 square miles with a population of 13,400. The railway station closed in the 1960s.
Links