On Thursday, approximately 10AM UTC, we'll be performing our MediaWiki 1.34 deployment. Please expect some downtime, we apologise in advance for any inconvenience!
Batenham
From Chesterwiki
Jump to navigation
Jump to search
Life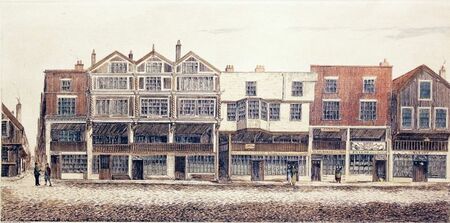 George Batenham (fl. 1814-1821) was an English draughtsman and engraver. He was the son of George Batenham (1770-1833) and Anne Batenham, Chester booksellers. About 1816 Batenham produced "Panoramic delineations of the four principal streets of the city if Chester" a plan of the city of Chester and a guide book to Chester. He frequently worked with William Batenham - believed to be his brother. The 1816 series records the "face-on" view of The Rows in great detail and cane be usefully compared with the present day "Google Street View".
As well as these architetural drawings Batenham produced a series of portraits, including a number of silhouettes.
Works
Ancient Chester: a series of illustrations of the streets of this old city. Drawn and etched by George and William Batenham and John Musgrove - with preface and descriptions by Thomas Hughes.
Links
Galleries